You are here
Back to top
Too Much and Never Enough: How My Family Created the World's Most Dangerous Man (Hardcover)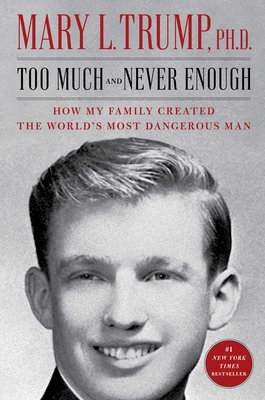 $28.00
Usually Ships in 1-5 Days
Description
---
In this revelatory, authoritative portrait of Donald J. Trump and the toxic family that made him, Mary L. Trump, a trained clinical psychologist and Donald's only niece, shines a bright light on the dark history of their family in order to explain how her uncle became the man who now threatens the world's health, economic security, and social fabric.

Mary Trump spent much of her childhood in her grandparents' large, imposing house in the heart of Queens, New York, where Donald and his four siblings grew up. She describes a nightmare of traumas, destructive relationships, and a tragic combination of neglect and abuse. She explains how specific events and general family patterns created the damaged man who currently occupies the Oval Office, including the strange and harmful relationship between Fred Trump and his two oldest sons, Fred Jr. and Donald.

A firsthand witness to countless holiday meals and interactions, Mary brings an incisive wit and unexpected humor to sometimes grim, often confounding family events. She recounts in unsparing detail everything from her uncle Donald's place in the family spotlight and Ivana's penchant for regifting to her grandmother's frequent injuries and illnesses and the appalling way Donald, Fred Trump's favorite son, dismissed and derided him when he began to succumb to Alzheimer's.

Numerous pundits, armchair psychologists, and journalists have sought to parse Donald J. Trump's lethal flaws. Mary L. Trump has the education, insight, and intimate familiarity needed to reveal what makes Donald, and the rest of her clan, tick. She alone can recount this fascinating, unnerving saga, not just because of her insider's perspective but also because she is the only Trump willing to tell the truth about one of the world's most powerful and dysfunctional families.
About the Author
---
Mary L. Trump holds a PhD from the Derner Institute of Advanced Psychological Studies and taught graduate courses in trauma, psychopathology, and developmental psychology. She lives with her daughter in New York.
Praise For…
---
"[T]he most devastating, most valuable and all-around best Trump book since he started running for president. In the vast Trump literature, this one is something new...[W]hat this book does do is help us understand him, offering the most incisive rendering yet of why he is the way he is."—Politico

"Mesmerizing beach reading and a memorable opposition research dump...It is salacious, venomous and well-sourced...Yet the narrative remains compelling." —The Guardian

"A delicious tell-all that does in fact tell all in a way one longs for a tell-all to do." —Vogue

"Dripping with snideness, vibrating with rage, and gleaming with clarity—a deeply satisfying read." —Kirkus (starred review)

"Mary Trump's compelling saga of one very unhappy family does more than just provide probing insights into her uncle's disturbing inner world. It's also a first-rate primer on the chaotic inner workings of an administration that has shocked the world by failing to take the basic steps required to keep Americans safe during the coronavirus pandemic. —Boston Globe

"After many, many Trump books, this is an essential one." —Vanity Fair

"[A] deftly written account of cross-generational trauma...Mary Trump brings to this account the insider perspective of a family member, the observational and analytical abilities of a clinical psychologist and the writing talent of a former graduate student in comparative literature." —Washington Post

Mary's clarity, training, discipline and sharp eye help make her a reliable narrator, and she's a fluid, witty writer to boot…She's a true insider in an era when "insider" accounts of the president are a dime-a-dozen — and that what she's written is likely to be indelible.—Bloomberg

"Mary L. Trump comes closer than anyone to describing the making of a seemingly heartless person who won his way to the White House...[A]n insightful, well-crafted memoir"—CNN

"You can see why President Trump doesn't want anyone to read this thing. It gives the lie to many of his most cherished myths about himself."—Los Angeles Times
Shopping Tips
Items appearing here do not necessarily indicate what is currently in stock at Ernest & Hadley Books. The product information displayed are records of books that have been, are, or will be available.
Please call ahead if you would like to see if it is currently in-stock: (205) 632-5331, click here OR use this as your guide:
~Look to the right of the book cover~
Items that "Usually Ship in 1-5 Days" are readily available! We either have it in stock or we may need to order it from the warehouse. Either way, we place orders twice a week so 1-5 business days is accurate! We will keep you posted on any outliers.
Items listed as "Hard to Find" or "Special Order," are likely not available. That being said, there is a possibility we have it in Used condition or an alternative edition, so please feel free to place the order. We will let you know right away if we must cancel, along with our heartfelt regrets!
Items that are "Backordered" will be delayed. Sometimes we have an exact date of when the publisher will have them ready and sometimes we do not. We will keep you in the loop, either way!
~At Checkout~
If you select In-Store Pickup (currently Curbside Pickup whilst engaged in pandemic safety measures) we will let you know as soon as your item(s) are available. At that point, we will schedule a pickup time that coincides with your essential errands.
Friends & Family Members Please select Pay In-Store, and call or email to arrange pick-up and payment.
TO USE A GIFT CARD Select Pay In-Store and include your gift card number, found on the back of the card, in the order comments.
Please visit our Help/FAQs page for more helpful tips.
Any other questions, just ask! We miss being face-to-face with our lovely customers, but are just a phone call (or email) away! Be safe, stay well, HAPPY READING!