You are here
Back to top
Rage (Hardcover)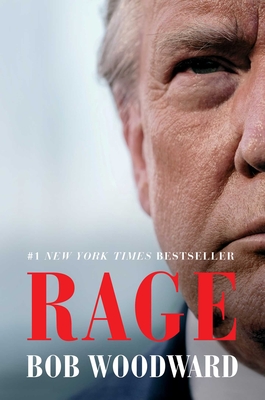 Description
---
Bob Woodward's new book, Rage, is an unprecedented and intimate tour de force of new reporting on the Trump presidency facing a global pandemic, economic disaster and racial unrest.

Woodward, the #1 international bestselling author of Fear: Trump in the White House, has uncovered the precise moment the president was warned that the Covid-19 epidemic would be the biggest national security threat to his presidency. In dramatic detail, Woodward takes readers into the Oval Office as Trump's head pops up when he is told in January 2020 that the pandemic could reach the scale of the 1918 Spanish Flu that killed 675,000 Americans.

In 17 on-the-record interviews with Woodward over seven volatile months—an utterly vivid window into Trump's mind—the president provides a self-portrait that is part denial and part combative interchange mixed with surprising moments of doubt as he glimpses the perils in the presidency and what he calls the "dynamite behind every door."

At key decision points, Rage shows how Trump's responses to the crises of 2020 were rooted in the instincts, habits and style he developed during his first three years as president.

Revisiting the earliest days of the Trump presidency, Rage reveals how Secretary of Defense James Mattis, Secretary of State Rex Tillerson and Director of National Intelligence Dan Coats struggled to keep the country safe as the president dismantled any semblance of collegial national security decision making.

Rage draws from hundreds of hours of interviews with firsthand witnesses as well as participants' notes, emails, diaries, calendars and confidential documents.

Woodward obtained 25 never-seen personal letters exchanged between Trump and North Korean leader Kim Jong Un, who describes the bond between the two leaders as out of a "fantasy film."

Trump insists to Woodward he will triumph over Covid-19 and the economic calamity. "Don't worry about it, Bob. Okay?" Trump told the author in July. "Don't worry about it. We'll get to do another book. You'll find I was right."
About the Author
---
Bob Woodward is an associate editor at The Washington Post where he has worked for 49 years and reported on every American president from Nixon to Trump. He has shared in two Pulitzer Prizes, first for the Post's coverage of the Watergate scandal with Carl Bernstein, and second 20 years later as the lead Post reporter for coverage of the 9/11 terrorist attacks.
Praise For…
---
"Anybody thinking about casting a vote should have to sit and read your book as a civic duty. Because it does reveal—more than anything I've seen about this president—who he is, what he really believes, on the record."—Willie Geist, Morning Joe

"A huge bestseller, as it should be. An amazing book."—Wolf Blitzer, CNN

"Trump is the first candidate for president to launch an October surprise against himself. It's as if Nixon sent the Nixon tapes to Woodward in an envelope by FedEx."—Nick Confessore of the New York Times

"Even in a news landscape where it feels like nothing is shocking anymore, the first excerpts from the new Bob Woodward book still landed like a pair of hydrogen bombs."—Vanity Fair

"Woodward's prose offers readers that delicious, vicarious sense of being an insider, right there in the room with Bob, a witness to presidential sulks and boasts."—Rosa Brooks, Washington Post

"We've had 45 presidents of the United States and we have had exactly one Bob Woodward. …He has written about nine consecutive presidents from Richard Nixon to Donald Trump.…Bob Woodward delivers the verdict of the first draft of history."—Lawrence O'Donnell, MSNBC host

"[T]his revealing look at an embattled presidency facing a pandemic, racial unrest and a suffering economy…the book's details have been explosive."—USA Today

"Rage is essential reading for anyone hoping to understand Trump."—Walter Clemons, New York Journal of Books

"It's okay. I mean it's fine."—President Donald J. Trump, when asked if Rage was accurate

"Damning…. Unlike most Trump tapes, Woodward's actually tell us something new about the president, rather than just confirming what we think we already know."—Michelle Goldberg, New York Times

"Rage may be Bob Woodward's most important book since All the President's Men."—Peter Bergen, CNN

"Bob Woodward induced a confession of the greatest lie in American history...a catastrophic leadership failure."—Steve Schmidt, campaign strategist for John McCain

"Now, thanks to The Post's Bob Woodward, we have learned the answer with regard to what history is likely to rank as perhaps the most consequential of all the falsehoods that Trump has uttered."—Karen Tumulty, Washington Post

"That's part of what makes the revelations today from Bob Woodward's new book so stomach churning...the worst thing you can imagine."—Rachel Maddow, MSNBC host

"Over nearly a half-century, no other person—including people wielding official power as legislators or prosecutors—has done as much to illuminate the modern presidency and help shape understanding of the nine people to hold the office during his career as Woodward, wielding only a journalist's unofficial powers of curiosity, notepad, and recorder."—John F. Harris, Politico

"Stunning...arresting"—NPR

"The book possesses more than a patina of similarity to the famous televised interviews between David Frost and Richard Nixon, the president Woodward and Carl Bernstein brought down with their reporting on Watergate nearly a half-century ago."—The Guardian

"At age 77, well over half a lifetime after he and Carl Bernstein took down President Richard Nixon with their reporting on Watergate, Woodward seems more willing—perhaps entitled—to put himself in the narrative and state his own views explicitly. In many ways, though, he's the same Woodward. He's an unparalleled amasser of secret documents, inside facts, dazzling scoops….What Woodward does is paint a picture of presidents dealing with power and crises."—Fred Kaplan, Slate

"I don't believe Mr. Woodward has ever written so clearly or with such urgency..."—Tony Norman, Pittsburgh Post-Gazette

"Woodward follows Fear with another alarming and deeply reported account of turmoil, dysfunction, and recklessness within the Trump administration... This devastating report will leave a lasting mark."—Publishers Weekly

"The most comprehensive and damning catalog yet of [Trump's] failings in office"—Doyle McManus, Los Angeles Times

"An essential account of a chaotic administration that, Woodward makes painfully clear, is incapable of governing."—Kirkus Reviews, starred review

"Arguably the most important journalist of the past 50 years, and we all owe him a huge debt of gratitude. He is thorough, disciplined, careful. He fact-checks, backs up what he says, mines as many sources as possible."—Harlan Coben, bestselling novelist

"The preeminent journalist of his generation."—David Ignatius, Washington Post
Shopping Tips & Updates
COVID-19 UPDATES:
1. Please anticipate 3-5 business days for in-store pickup. We will let you know of any further delays, but if you need an item right away please call to see if it is in stock: (205) 632-5331.
2. Masks are required to enter the showroom and we are still offering curbside pickup if that is preferable. Select "in-store pickup," and when you receive notification that your order is ready, simply call from the curb out front and we will run it to you!
3. We are not accepting book drop-offs for store credit or donation (we never offer cash). We may re-evaluate after Nov. 8, 2020 when the state-wide mandate is expected to end. TBD. Thank you for understanding and continuing to do your part to stop the spread of the novel coronavirus.
~~~~~~~~~~~~~~~~~~~~~~~~~~~~~~~~~~~~~~~~~~~~~
Items appearing here do not necessarily indicate what is currently in stock at Ernest & Hadley Books. The product information displayed are records of books that have been, are, or will be available.
Please call ahead if you would like to see if it is currently in-stock: (205) 632-5331, click here OR use this as your guide:
~Product Details~
Items that "Usually Ship in 1-5 Days" are available! We either have it in stock or we may need to order it from the warehouse. Either way, we place orders twice a week so 1-5 business days is generally accurate. We will keep you posted on any outliers, especially during Covidia.
Items listed as "Hard to Find" or "Special Order," are likely not available. That being said, there is a possibility we have it in Used condition or an alternative edition. Please call the store to inquire and/or complete your order, (205) 632-5331, or email avery@ernestandhadleybooks.com.
"Backordered" books may be available, just not right away. Please call the store to inquire and/or complete your order, (205) 632-5331, or email avery@ernestandhadleybooks.com.
If you are purchasing a lot of items, please be aware that there may be delays, or they may arrive at different times. If any books are "Pre-Orders" please put those in a separate order, if at all possible. Much appreciated!
~At Checkout~
If you select In-Store Pickup, we will let you know as soon as your item(s) are available and waiting on our Contactless Cart, located just inside and behind the front door. Our current hours are Monday through Friday, 9:30 AM to 5:30 PM, Saturday from 9:30 AM to 4:30 PM, closed Sunday. Masks are still required to enter. If you'd prefer curbside pickup, please call from the front curb during business hours: (205) 632-5331.
Friends & Family Members Please mention membership in the order comments. New total will be calculated after you submit the order but before payment is processed.
TO USE A GIFT CARD Select Pay In-Store and In-Store Pickup (even if you need your order shipped), and include your gift card number on the back of the card in the order comments, along with your mailing address, if applicable. If your gift card will not cover the total with shipping (standard shipping is $2.50 + $2.00 per item) or you'd like to check your balance, please call (205) 632-5331 or email avery@ernestandhadleybooks.com.
Having trouble completing the order? Please leave your items in your cart and call (205) 632-5331 to finish your order over the phone.
Please visit our Help/FAQs page for more helpful tips.
Any other questions, just ask! We miss being face-to-face with our lovely customers, but are just a phone call (or email) away! Be safe, stay well, HAPPY READING!