You are here
Back to top
The Institute: A Novel (Hardcover)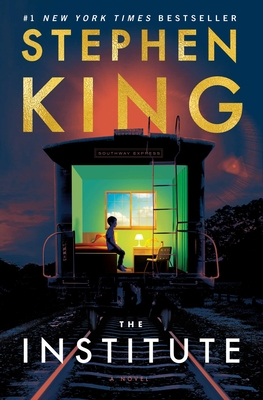 Description
---
A NEW YORK TIMES 100 NOTABLE BOOKS OF 2019 SELECTION

From #1 New York Times bestselling author Stephen King, the most riveting and unforgettable story of kids confronting evil since It.

In the middle of the night, in a house on a quiet street in suburban Minneapolis, intruders silently murder Luke Ellis's parents and load him into a black SUV. The operation takes less than two minutes. Luke will wake up at The Institute, in a room that looks just like his own, except there's no window. And outside his door are other doors, behind which are other kids with special talents—telekinesis and telepathy—who got to this place the same way Luke did: Kalisha, Nick, George, Iris, and ten-year-old Avery Dixon. They are all in Front Half. Others, Luke learns, graduated to Back Half, "like the roach motel," Kalisha says. "You check in, but you don't check out."

In this most sinister of institutions, the director, Mrs. Sigsby, and her staff are ruthlessly dedicated to extracting from these children the force of their extranormal gifts. There are no scruples here. If you go along, you get tokens for the vending machines. If you don't, punishment is brutal. As each new victim disappears to Back Half, Luke becomes more and more desperate to get out and get help. But no one has ever escaped from the Institute.

As psychically terrifying as Firestarter, and with the spectacular kid power of It, The Institute is Stephen King's gut-wrenchingly dramatic story of good vs. evil in a world where the good guys don't always win.
About the Author
---
Stephen King is the author of more than sixty books, all of them worldwide bestsellers. His recent work includes If It Bleeds, The Institute, Elevation, The Outsider, Sleeping Beauties (cowritten with his son Owen King), and the Bill Hodges trilogy: End of Watch, Finders Keepers, and Mr. Mercedes (an Edgar Award winner for Best Novel and an AT&T Audience Network original television series). His novel 11/22/63 was named a top ten book of 2011 by The New York Times Book Review and won the Los Angeles Times Book Prize for Mystery/Thriller. His epic works The Dark Tower, It, Pet Sematary, and Doctor Sleep are the basis for major motion pictures, with It now the highest-grossing horror film of all time. He is the recipient of the 2020 Audio Publishers Association Lifetime Achievement Award, the 2018 PEN America Literary Service Award, the 2014 National Medal of Arts, and the 2003 National Book Foundation Medal for Distinguished Contribution to American Letters. He lives in Bangor, Maine, with his wife, novelist Tabitha King.
Praise For…
---
"A big shank of a book that reminded me instantly of many of the reasons I loved (love?) [King]. His characters are the kind of people who hear the trains in the night. The music is always good. He swings low to the ground. He gets closer to the realities and attitudes of working-class life in America than any living writer I can think of."
—Dwight Garner, The New York Times

"Throughout his long career, King has been committed to the bedrock notion that stories matter, that they help us understand both ourselves and the world we inhabit. The Institute, filled as it is with anger, sorrow, empathy and, yes, hope, reiterates that commitment with undiminished power. It is a first-rate entertainment that has something important to say. We all need to listen."
—William Sheehan, The Washington Post

"As consummately honed and enthralling as the very best of [King's] work...How do you maintain your dignity and humanity in an environment designed to strip you of both? That theme, such an urgent one in literature from the 20th century onward, falls well within King's usual purview...Of all the cosmic menaces that King's heroes have battled, [the] slow creep into inhumanity may be the most terrifying yet, because it is all too real."
—Laura Miller, The New York Times Book Review

"The Institute is another winner: creepy and touching and horrifyingly believable, all at once."
—The Boston Globe

"This is King at his best."
—The St. Louis Post-Dispatch

"Gripping… This is a thriller — and a good one, at that. There's little in the way of King's usual emphasis on the occult beyond the topic of psychic powers, which, according to surveys, as many as 40% of Americans believe are real. But there's no shortage of monsters, that's for sure. They just come in the coldblooded, end-justifies-the-means, laws-don't-apply-to-us human variety. We have no trouble believing that those types of people are real. And they are plenty scary."
—The Minneapolis Star Tribune

"Fans will draw parallels between Luke's tight band of friends and the kids at the center of It, in which the Losers Club faces off against a murderous clown, but this is an entirely original story that can only come from the mind of a master teller like King."
—The Florida Times Union

"King wows with the most gut-wrenching tale of kids triumphing over evil since It….Tapping into the minds of the young characters, King creates a sense of menace and intimacy that will have readers spellbound…Not a word is wasted in this meticulously crafted novel, which once again proves why King is the king of horror."
—Publishers Weekly, STARRED review

"You don't need to be a horror fan to read The Institute — or to have The Institute take over your life, since this is generally what happens with King's novels...His storytelling transcends genre."
—Marion Winnick, Newsday

"Shocking suspense and hallmark thrills…The Institute offers a thrilling reading experience and rousing tribute to the resilience of children and the unending fight against evil."
—G. Robert Frazier, BookPage
Shopping Tips & Updates
**PLEASE ANTICIPATE LONGER SHIPPING TIMES** We apologize for any inconvenience, but please add 1-3 business days to the "ships in 1-5 days" indicated next to available items on order. This is temporary!
Items appearing here do not necessarily indicate what is currently in stock at Ernest & Hadley Books. The product information displayed are records of books that have been, are, or will be available.
Please call ahead if you would like to see if it is currently in-stock: (205) 632-5331, click here OR use this as your guide:
~Product Details~
Items that "Usually Ship in 1-5 Days" (**see above**) are available! We either have it in stock or we may need to order it from the warehouse. Either way, we place orders twice a week so 1-5 business days is generally accurate. We will keep you posted on any outliers, especially during Covidia.
Items listed as "Hard to Find" or "Special Order," are likely not available. That being said, there is a possibility we have it in Used condition or an alternative edition. Please call the store to inquire and/or complete your order, (205) 632-5331, or email avery@ernestandhadleybooks.com.
"Backordered" books may be available, just not right away. Please call the store to inquire and/or complete your order, (205) 632-5331, or email avery@ernestandhadleybooks.com.
If you are purchasing a lot of items, please be aware that there may be delays, or they may arrive at different times. If any books are "Pre-Orders" please put those in a separate order, if at all possible. Much appreciated!
~At Checkout~
If you select In-Store Pickup, we will let you know as soon as your item(s) are available and waiting on our Contactless Cart, located just inside and behind the front door. Our current hours are Monday through Friday, 9:30 AM to 5:30 PM, Saturday from 9:30 AM to 4:30 PM, closed Sunday. Masks are still required to enter. If you'd prefer curbside pickup, please call from the front curb during business hours: (205) 632-5331.
Friends & Family Members Please mention membership in the order comments. New total will be calculated after you submit the order but before payment is processed.
TO USE A GIFT CARD Select Pay In-Store and In-Store Pickup (even if you need your order shipped), and include your gift card number on the back of the card in the order comments, along with your mailing address, if applicable. If your gift card will not cover the total with shipping (standard shipping is $2.50 + $2.00 per item) or you'd like to check your balance, please call (205) 632-5331 or email avery@ernestandhadleybooks.com.
Having trouble completing the order? Please leave your items in your cart and call (205) 632-5331 to finish your order over the phone.
Please visit our Help/FAQs page for more helpful tips.
Any other questions, just ask! We miss being face-to-face with our lovely customers, but are just a phone call (or email) away! Be safe, stay well, HAPPY READING!