You are here
Back to top
HARRY STYLES Calendar 2021-2022: EXCLUSIVE Harry Styles Photos (8.5x11 Inches Large Size) 18 Months Wall Calendar (Hardcover)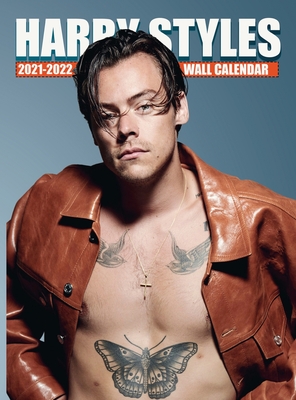 $22.49
Email or call for price
Description
---
BEST GIFT IDEA FOR HARRY STYLES FANS
- SPECIAL LAUNCH PRICE (WHILE STOCKS LAST )
Are You Looking For HARRY STYLES Gift This Season?
Do You Have Any Friend Who Loves HARRY STYLES?
Then This STYLES Calendar is For You.
This HARRY STYLES 2021-2022 Calendar contains HIGH QUALITY HARRY STYLES PHOTOS.
There is 18 Monthly Calendar Dated 2020-2022, that will help you organize yourself and Achieve All Your Goals
This Is Perfect Calendar gift for any occasion:
Christmas Gifts
Birthday Gifts
Mindful Gifts
New year GIFT...
Fill your upcoming Year with 18 months of Awesome Calendar all year round.
Features and details:
18 Months From January 2021 to June 2022
"8.5x11" Inch
18 High Definition Full Color Harry styles Character photography
Cute Glossy Cover
Official Holidays
Fill your Years with success
This Calendar Contains 18 High Quality Images of Popular MUSICIAN - STYLE CONCEPT. Give it to yourself, friends, family and co-worker, Makes the perfect Gift. For more Beautiful Calendars and Planners click on Author name to check it out...
Scroll Up Now and Click The Buy Button To Get Started
Shopping Tips & Updates
COVID-19 UPDATE (July 31, 2021)
1. We are following CDC guidelines for in-person shopping. Our staff is fully vaccinated, but with Delta surging and Alabama's vaccination rate the national caboose, masks are required to enter. We are still offering curbside pickup if you prefer. Pay ahead online, select "in-store pickup," and when you receive notification that your order is ready, simply call from the 7th Street entrance: (205) 632-5331.
2. Please anticipate 3-5 business days for in-store pickup. We will let you know of any further delays, but if you need an item right away please call to see if it is in stock: (205) 632-5331.
3. Have questions about what it's like to get the vaccine? We're happy to discuss our experiences!
~~~~~~~~~~~~~~~~~~~~~~~~~~~~~~~~~~~~~~~~~~~~~
Items appearing here do not necessarily indicate what is currently in stock at Ernest & Hadley Books. The product information displayed are records of books that have been, are, or will be available.
Please call ahead if you would like to see if it is currently in-stock: (205) 632-5331, OR use this as your guide: click here
Please visit our Help/FAQs page for more helpful tips, or Important Terms & Conditions for how to use a gift card and other pertinent details about your order.
Any other questions, just ask! Happy browsing ~ Happy reading!