You are here
Back to top
Shut Up & Colour This Shit: A Swear Word Adult Colouring Book (Left-Handed Edition) (Paperback)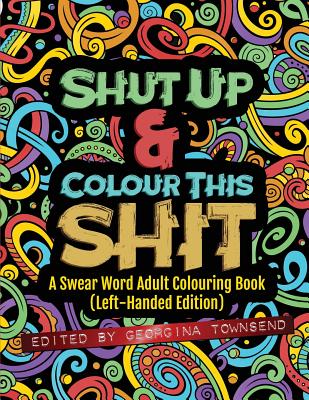 $10.39

Usually Ships in 1-5 Days
Description
---
Ideal holiday gift for adults Adult humour alert
*****Left-Handed Edition*****
Had one of those days? Of course you have. Colour your stress away...
This awesome swear word adult colouring book is packed with enjoyable designs and a ******g mountain of sweary delights, waiting for you to dig in and colour your stress away.
No matter who's wound you up, how *****d off you are, or what you really want to say to that maggot of a boss/sibling/person smoking under the 'No Smoking' sign, you'll find something here to help you work through the rage, and maybe even provide some inspiration.
Relax. Colour. Enjoy
Product details:
Adults only

Strong language (duh )
British English
Sense of humour required
White paper, with single-sided designs
LEFT-HANDED EDITION - colouring pages are on the verso pages of the leaves, making it easier for left-handed colourists.

Shopping Tips & Updates
COVID-19 UPDATE (July 31, 2021)
1. We are following CDC guidelines for in-person shopping. Our staff is fully vaccinated, but with Delta surging and Alabama's vaccination rate the national caboose, masks are required to enter. We are still offering curbside pickup if you prefer. Pay ahead online, select "in-store pickup," and when you receive notification that your order is ready, simply call from the 7th Street entrance: (205) 632-5331.
2. Please anticipate 3-5 business days for in-store pickup. We will let you know of any further delays, but if you need an item right away please call to see if it is in stock: (205) 632-5331.
3. Have questions about what it's like to get the vaccine? We're happy to discuss our experiences!
~~~~~~~~~~~~~~~~~~~~~~~~~~~~~~~~~~~~~~~~~~~~~
Items appearing here do not necessarily indicate what is currently in stock at Ernest & Hadley Books. The product information displayed are records of books that have been, are, or will be available.
Please call ahead if you would like to see if it is currently in-stock: (205) 632-5331, OR use this as your guide: click here
Please visit our Help/FAQs page for more helpful tips, or Important Terms & Conditions for how to use a gift card and other pertinent details about your order.
Any other questions, just ask! Happy browsing ~ Happy reading!