You are here
Back to top
In Trump Time: A Journal of America's Plague Year (Hardcover)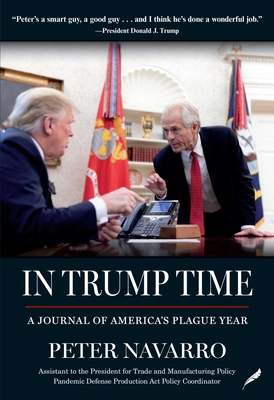 $28.00

Usually Ships in 1-5 Days
About the Author
---
Of those who served in the Trump Administration who might offer an insider's account, Peter Navarro is uniquely qualified. He is one of only three senior White House officials who would be by President Trump's side from the 2016 campaign to the end of the president's first term in office. At the White House, Dr. Navarro served as an Assistant to the President and the Director of the Office of Trade and Manufacturing Policy. He would play a key role in helping President Trump create nearly half a million manufacturing jobs while saving our shipyards and strnghtening our defense industrial base. When the pandemic from Communist China attacked America in 2020, Navarro would serve as the Defense Production Act Polict Coordinator. He would play a pivotal role in securing a travel plan on China in January 2020, a courageous action by the president that saved hundreds of thousands and perhaps millions of lives. Dr. Navarro holds a Bachelor of Arts degree from Tufts University, a Master's in Public Administration from the Kennedy School of Government and a PhD in Economics from Harvard University.
Shopping Tips & Updates
COVID-19 UPDATE (July 31, 2021)
1. We are following CDC guidelines for in-person shopping. Our staff is fully vaccinated, but with Delta surging and Alabama's vaccination rate the national caboose, masks are required to enter. We are still offering curbside pickup if you prefer. Pay ahead online, select "in-store pickup," and when you receive notification that your order is ready, simply call from the 7th Street entrance: (205) 632-5331.
2. Please anticipate 3-5 business days for in-store pickup. We will let you know of any further delays, but if you need an item right away please call to see if it is in stock: (205) 632-5331.
3. Have questions about what it's like to get the vaccine? We're happy to discuss our experiences!
~~~~~~~~~~~~~~~~~~~~~~~~~~~~~~~~~~~~~~~~~~~~~
Items appearing here do not necessarily indicate what is currently in stock at Ernest & Hadley Books. The product information displayed are records of books that have been, are, or will be available.
Please call ahead if you would like to see if it is currently in-stock: (205) 632-5331, OR use this as your guide: click here
Please visit our Help/FAQs page for more helpful tips, or Important Terms & Conditions for how to use a gift card and other pertinent details about your order.
Any other questions, just ask! Happy browsing ~ Happy reading!