You are here
Back to top
Adult Coloring Book: Stress Relieving Designs for Relaxation Volume 3 (Paperback)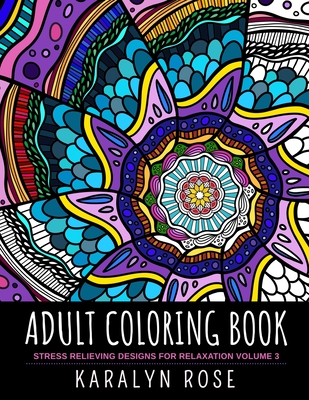 $9.09

Usually Ships in 1-5 Days
Description
---
Adult Coloring Book: Stress Relieving Designs for Relaxation Volume 3 is filled with a new collection of original calming designs created by Karalyn Rose. The patterns in this coloring book are intended to inspire creativity and help relieve stress and anxiety while you color. Coloring is a great way to wind down and let your mind achieve a meditative state as relax and focus on the present in order to help achieve mindfulness.This book includes thirty hand drawn (with a graphics tablet) illustrations by Karalyn Rose, printed one-sided. Features many mandala coloring pages and designs inspired by zentangles, geometric patterns, doodles, even a few fun patterns with hearts, and flowers. The illustrations range from easy to more complex with a variety of styles ranging from thick bold lines to thin and more intricate, however most images in this book have thick lines for ease of coloring inside the lines. All images have a border around them. There is a nice selection of designs to choose from depending on your mood and coloring style.Suitable for colorists of all ages. This is a coloring book for adults simply because coloring is fun for everyone Grown ups are encouraged to color in this book to enjoy the stress relieving benefits that coloring can provide.
Shopping Tips & Updates
COVID-19 UPDATE (July 31, 2021)
1. We are following CDC guidelines for in-person shopping. Our staff is fully vaccinated, but with Delta surging and Alabama's vaccination rate the national caboose, masks are required to enter. We are still offering curbside pickup if you prefer. Pay ahead online, select "in-store pickup," and when you receive notification that your order is ready, simply call from the 7th Street entrance: (205) 632-5331.
2. Please anticipate 3-5 business days for in-store pickup. We will let you know of any further delays, but if you need an item right away please call to see if it is in stock: (205) 632-5331.
3. Have questions about what it's like to get the vaccine? We're happy to discuss our experiences!
~~~~~~~~~~~~~~~~~~~~~~~~~~~~~~~~~~~~~~~~~~~~~
Items appearing here do not necessarily indicate what is currently in stock at Ernest & Hadley Books. The product information displayed are records of books that have been, are, or will be available.
Please call ahead if you would like to see if it is currently in-stock: (205) 632-5331, OR use this as your guide: click here
Please visit our Help/FAQs page for more helpful tips, or Important Terms & Conditions for how to use a gift card and other pertinent details about your order.
Any other questions, just ask! Happy browsing ~ Happy reading!