You are here
Back to top
The Broken Road: George Wallace and a Daughter's Journey to Reconciliation (Hardcover)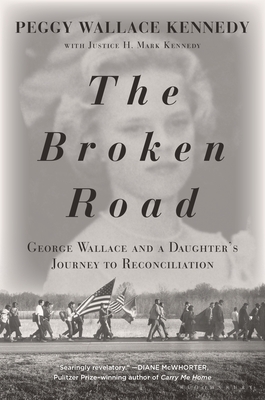 $28.00
Usually Ships in 1-5 Days
Description
---
From the daughter of one of America's most virulent segregationists, a memoir that reckons with her father George Wallace's legacy of hate--and illuminates her journey towards redemption.

Peggy Wallace Kennedy has been widely hailed as the "symbol of racial reconciliation" (Washington Post). In the summer of 1963, though, she was just a young girl watching her father stand in a schoolhouse door as he tried to block two African-American students from entering the University of Alabama. This man, former governor of Alabama and presidential candidate George Wallace, was notorious for his hateful rhetoric and his political stunts. But he was also a larger-than-life father to young Peggy, who was taught to smile, sit straight, and not speak up as her father took to the political stage. At the end of his life, Wallace came to renounce his views, although he could never attempt to fully repair the damage he caused. But Peggy, after her own political awakening, dedicated her life to spreading the new Wallace message--one of peace and compassion.

In this powerful new memoir, Peggy looks back on the politics of her youth and attempts to reconcile her adored father with the man who coined the phrase "Segregation now. Segregation tomorrow. Segregation forever."

Timely and timeless, The Broken Road speaks to change, atonement, activism, and racial reconciliation.
About the Author
---
Peggy Wallace Kennedy is a nationally recognized speaker, lecturer, and writer. Her father, George Wallace and her mother, Lurleen Wallace, were both governors of Alabama. Mrs. Kennedy has received, among others, the Southern Christian Leadership Conference Rosa Parks Legacy Award; the Emmett Till Legacy Foundation Woman of Courage Award; the Brown Foundation Human Rights Award; and the MLK Commission Award, City of San Antonio, Texas. Her dedication to racial reconciliation offers hope for change in a divided America. She lives in Montgomery, Alabama.

Justice H. Mark Kennedy, Peggy's husband of forty-six years, served as a judge for more than two decades including two terms as a Justice of the Supreme Court of Alabama. Together they have two sons.
Praise For…
---
"This . . . fascinating and unflinching memoir from the daughter of former Alabama governors George and Lurleen Wallace . . . explores Peggy Wallace Kennedy's journey from a little girl defending her father as a "segregationist" and not a "racist" to an adult grappling with his civil rights legacy and seeking racial justice." - NPR.org, Best Books of the Year

"If an enduring face of the pain and promise of the Civil Rights movement is Rep. John Lewis (D.Ga.), then Peggy Wallace Kennedy has become a symbol of racial reconciliation. In speeches and interviews over the past few years, the diminutive daughter of segregationist Alabama Governor George Wallace looms large as an authoritative voice in acknowledging a painful past as part of a larger effort to move our nation forward." - The Washington Post, Jonathan Capehart

"In her new memoir . . . [Kennedy] recounts what it was like to grow up as the child of a man the Rev. Martin Luther King Jr. once called "the most dangerous racist in America." Her book is an unflinching look at how her father's politics warped his personal life and clouded his daughter's conscience . . . With startling candor, Kennedy takes on her own denial as well as her father's." - CNN

"Wallace Kennedy, who avoided the spotlight for years, is now using her voice to promote racial healing." - NPR

"George C. Wallace, perennial Alabama governor and presidential candidate, was Donald Trump's John the Baptist, and so as a public record, this memoir by Wallace's anti-racist daughter can read like prophecy more than history. But it's as a sometimes painful personal accounting of life under Wallace that The Broken Road is most searingly revelatory, especially to those of us who lived through her father's reign of civic doom and racial carnage. Peggy Wallace Kennedy's story of the havoc-making 'family man' is delivered with style, sly humor, and an admirable measure of dispassion. And it seems like an act of grace for Peggy to have ended up on the right side of the Selma Bridge, holding the hand of Congressman John Lewis. May our country end up so fortunate." - Diane McWhorter, author of the Pulitzer Prize-winning CARRY ME HOME: Birmingham, Alabama--The Climactic Battle of the Civil Rights Revolution

"The daughter of George Wallace, the virulently segregationist Alabama governor,…Kennedy relates the story of the historic civil rights march in Selma and her attempts to make reparations… [and] recounts how in both word and deed her father, late in his life, repented for his past." - The National Book Review's 5 Hot Books list

"An intimate portrait of a daughter's struggle to grapple with a father whom she loves but whose politics she abhors and her extraordinary odyssey to find her own voice. Peggy's story, imbued with atonement, redemption, and healing grace is especially important now, when our country is more divided than anytime in the last fifty years." - Kerry Kennedy, President, Robert F. Kennedy Human Rights

"This brave and sobering memoir by the daughter of the notorious segregationist seeks to elucidate her father's character while still holding the man to account." - Shelf Awareness

"The redemption Peggy offers in The Broken Road is the hope that pain is not where it will end. . . . [It is] is a multi-layered memoir, searing in its candor." - The Bitter Southerner

"A masterpiece of personal memoir . . . with first-rate writing and searing honesty, Peggy Wallace Kennedy shares the story of a Southern soul steeped in tragedy and shame, revelation and redemption. To read it is a long-awaited gift." - Rev. Doug Tanner, Founding Director, The Faith & Politics Institute, Washington, DC

"The temptation when faced with a biography of a famous and nearly contemporary figure like George Wallace is to believe you already know all about that . . . But here, Peggy Wallace, daughter of the governor, has told us the inside story . . . [She] has devoted a large portion of her life to making amends, one might say, for her father's actions . . . She is also outspoken about what she sees as similarities between her father's political era and the present." - The Tuscaloosa News

"The Broken Road is the story of a family struggling with an impossible legacy. . . . White southerners who reject the racist teachings of their elders often feel a life-long need to understand and to explain. That need propels The Broken Road. For these white southerners, there is the tension between expressing our differences with our kin but not rejecting them as loved ones or holding them out for ridicule, not using them as props. How do we elevate ourselves without tearing them down?" - Birmingham Watch

"In her powerful new memoir, Kennedy looks back on the politics of her youth and attempts to reconcile her adored father with the man who coined the phrase "Segregation now. Segregation tomorrow. Segregation forever." - The Montgomery Advertiser

"This remarkable memoir by Peggy Wallace Kennedy, tender, heart-breaking, searing in its honesty, is in the end a story of redemption--the journey of the daughter of George C. Wallace from the segregationist shadow of her father into the light of racial reconciliation. Anybody who knows Peggy Kennedy, or who reads these pages, will understand immediately the anguished authenticity of her passage. Civil rights leaders such as John Lewis ultimately forgave George Wallace for the sins of his past, just as they have embraced his daughter as a sister in the quest for human rights. The Broken Road is the story of how that happened--a needed reminder in these times that love and simple decency can be more powerful than their opposites." - Frye Gaillard, author of A HARD RAIN: AMERICA IN THE 1960s

"The Broken Road seeks not only to answer the 'why' of George Wallace's behavior, but also to reconcile his legacy of bigotry and hatred, and subsequent redemption, with his daughter's own legacy of a lifetime spent trying to right the wrongs he perpetrated." - New York Journal of Books

"A scorching look at Wallace as a failed father, husband, friend--and as a purveyor of racism." - Denton Record-Chronicle

"A powerful memoir about the politics of [Wallace Kennedy's] youth as well as intimate stories about her famous father and family." - KY Forward

"[A] thoughtful, evenhanded debut . . . Kennedy's astute memoir also serves as a probing record of politics and racism in the South." - Publishers Weekly

"Shows poignantly the toll [George Wallace's] actions took on his family and draws parallels between his tactics and those of Donald Trump. . . . A fair-minded memoir and portrayal of an exceptionally divisive civil rights-era politician." - Kirkus Reviews

"Readers will find out more about George Wallace than they ever could have learned otherwise, and will be transported back to the heat, hatred, fear and some notable heroics of the early civil rights era. The judgment on Alabama's fiery leader cannot rest solely on one source, but by creating her perspective, Peggy Wallace Kennedy offers a reasonable opening for re-examination." - BookReporter.com

"Absolutely, The Broken Road is a book of a thousand emotions. Anger, disgust, outrage--of course, you may remember those. Keep going: Deep sadness rings this tale, but a sense of satisfaction may be found, too, as pieces of a 50-plus-year-old puzzle fall into place. Also, in author Peggy Wallace's hands, the story of her mother is told with steely inspiration, while other passages hold a tinge of droll Well-Bless-Your-Heart zingers that are delightfully tucked in. . . . Love, politics, the tumultuous '60s, current events, it's all in this can't-miss biography. The Broken Road is paved with grace." - Bookworm

"Peggy Wallace Kennedy's monumental memoir, The Broken Road, is a roadmap for Southerners seeking separation from depravity defining the region." - The Clarion-Ledger / Hattiesburg American's "Mississippi Books Page"

"The Broken Road, by Peggy Wallace Kennedy, is a powerful memoir that doesn't gloss over her father's faults and the suffering he caused black citizens." - AL.com

"The Broken Road is a heartfelt book about a daughter wanting to save her father's reputation." - The Humanist

"It's an unlikely memoir in which the daughter of the segregationist politician George Wallace walks hand-in-hand with civil rights legend John Lewis down the streets of Selma, Alabama." - Plough's "Editor's Picks"
Shopping Tips & Updates
**PLEASE ANTICIPATE LONGER SHIPPING TIMES** We apologize for any inconvenience, but please add 1-3 business days to the "ships in 1-5 days" indicated next to available items on order. This is temporary!
Items appearing here do not necessarily indicate what is currently in stock at Ernest & Hadley Books. The product information displayed are records of books that have been, are, or will be available.
Please call ahead if you would like to see if it is currently in-stock: (205) 632-5331, click here OR use this as your guide:
~Product Details~
Items that "Usually Ship in 1-5 Days" (**see above**) are available! We either have it in stock or we may need to order it from the warehouse. Either way, we place orders twice a week so 1-5 business days is generally accurate. We will keep you posted on any outliers, especially during Covidia.
Items listed as "Hard to Find" or "Special Order," are likely not available. That being said, there is a possibility we have it in Used condition or an alternative edition. Please call the store to inquire and/or complete your order, (205) 632-5331, or email avery@ernestandhadleybooks.com.
"Backordered" books may be available, just not right away. Please call the store to inquire and/or complete your order, (205) 632-5331, or email avery@ernestandhadleybooks.com.
If you are purchasing a lot of items, please be aware that there may be delays, or they may arrive at different times. If any books are "Pre-Orders" please put those in a separate order, if at all possible. Much appreciated!
~At Checkout~
If you select In-Store Pickup, we will let you know as soon as your item(s) are available and waiting on our Contactless Cart, located just inside and behind the front door. Our current hours are Monday through Friday, 9:30 AM to 5:30 PM, Saturday from 9:30 AM to 4:30 PM, closed Sunday. Masks are still required to enter. If you'd prefer curbside pickup, please call from the front curb during business hours: (205) 632-5331.
Friends & Family Members Please mention membership in the order comments. New total will be calculated after you submit the order but before payment is processed.
TO USE A GIFT CARD Select Pay In-Store and In-Store Pickup (even if you need your order shipped), and include your gift card number on the back of the card in the order comments, along with your mailing address, if applicable. If your gift card will not cover the total with shipping (standard shipping is $2.50 + $2.00 per item) or you'd like to check your balance, please call (205) 632-5331 or email avery@ernestandhadleybooks.com.
Having trouble completing the order? Please leave your items in your cart and call (205) 632-5331 to finish your order over the phone.
Please visit our Help/FAQs page for more helpful tips.
Any other questions, just ask! We miss being face-to-face with our lovely customers, but are just a phone call (or email) away! Be safe, stay well, HAPPY READING!