You are here
Back to top
Down Along with That Devil's Bones: A Reckoning with Monuments, Memory, and the Legacy of White Supremacy (Hardcover)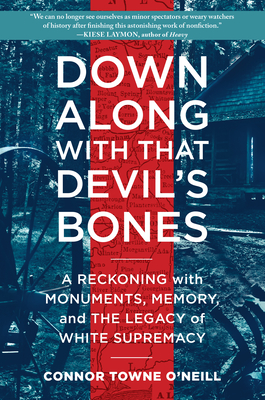 $26.95
Coming Soon - Available for Pre-Order Now
Description
---
"We can no longer see ourselves as minor spectators or weary watchers of history a­fter finishing this astonishing work of nonfiction." —Kiese Laymon, author of Heavy
 
In Down Along with That Devil's Bones, journalist Connor Towne O'Neill takes a deep dive into American history, exposing the still-raging battles over monuments dedicated to one of the most notorious Confederate generals, Nathan Bedford Forrest. Through the lens of these conflicts, O'Neill examines the legacy of white supremacy in America, in a sobering and fascinating work sure to resonate with readers of Tony Horwitz, Timothy B. Tyson, and Robin DiAngelo.
 
When O'Neill first moved to Alabama, as a white Northerner, he felt somewhat removed from the racism Confederate monuments represented. Then one day in Selma, he stumbled across a group of citizens protecting a monument to Forrest, the officer who became the first Grand Wizard of the Ku Klux Klan and whom William Tecumseh Sherman referred to as "that devil." O'Neill sets off to visit other disputed memorials to Forrest across the South, talking with men and women who believe they are protecting their heritage, and those who have a different view of the man's poisonous history.
 
O'Neill's reporting and thoughtful, deeply personal analysis make it clear that white supremacy is not a regional affliction but is in fact coded into the DNA of the entire country. Down Along with That Devil's Bones presents an important and eye-opening account of how we got from Appomattox to Charlottesville, and where, if we can truly understand and transcend our past, we could be headed next.
About the Author
---
Connor Towne O'Neill's writing has appeared in New York magazine, Vulture, Slate, RBMA, and the Village Voice, and he works as a producer on the NPR podcast White Lies, which was a finalist for the 2020 Pulitzer Prize in Audio Reporting. Originally from Lancaster, Pennsylvania, he lives in Tuscaloosa, Alabama, and teaches at Auburn University and with the Alabama Prison Arts + Education Project. This is his first book.
Praise For…
---
"The truth is that we Southerners have always needed dedicated, self-reflective young folks from the North guided by genius and radical love to help us exorcise the worst parts of our region. Connor Towne O'Neill walks in that radical love tradition in Down Along with That Devil's Bones, but he does something more here. He decimates the argument for our need of Confederate statues while chronicling what their existence grants him bodily and morally."
—Kiese Laymon, author of Heavy

"An eloquent and provocative examination of the links between protests over Confederate monuments in the South and the resurgence of white supremacy . . . O'Neill writes with grace and genuine curiosity, allowing people on all sides of the issue to speak for themselves. This inquiry into the legacy of American slavery is equally distressing and illuminating."
—Publishers Weekly

"In examining the battles over monuments to Nathan Bedford Forrest, Connor O'Neill deepens his own understanding of the denial, the hatred, the horror, that still infests white people in this country, who do not want to lose their magical image of themselves as the noble race who tamed a continent and lifted up savages out of their barbarity. Unable to face the full horror of what we did in these centuries of brutality against other races, we hide in the idea of the lost cause, the idealization of what we call a way of life, and idolize figures like Forrest, a man who made his fortune in the sale of human beings, and who carved himself into history through his wholehearted embrace of the southern war effort that, by his own words, had the glorification of slavery as its purpose. It is a vital piece of the puzzle, this history, reported in clarity and rich in insight. Would that clarity and insight could lift this curse from our nation at last." 
—Jim Grimsley, author of How I Shed My Skin
Shopping Tips & Updates
**PLEASE ANTICIPATE LONGER SHIPPING TIMES** We apologize for any inconvenience, but please add 1-3 business days to the "ships in 1-5 days" indicated next to available items on order. This is temporary!
Items appearing here do not necessarily indicate what is currently in stock at Ernest & Hadley Books. The product information displayed are records of books that have been, are, or will be available.
Please call ahead if you would like to see if it is currently in-stock: (205) 632-5331, click here OR use this as your guide:
~Product Details~
Items that "Usually Ship in 1-5 Days" (**see above**) are available! We either have it in stock or we may need to order it from the warehouse. Either way, we place orders twice a week so 1-5 business days is generally accurate. We will keep you posted on any outliers, especially during Covidia.
Items listed as "Hard to Find" or "Special Order," are likely not available. That being said, there is a possibility we have it in Used condition or an alternative edition. Please call the store to inquire and/or complete your order, (205) 632-5331, or email avery@ernestandhadleybooks.com.
"Backordered" books may be available, just not right away. Please call the store to inquire and/or complete your order, (205) 632-5331, or email avery@ernestandhadleybooks.com.
If you are purchasing a lot of items, please be aware that there may be delays, or they may arrive at different times. If any books are "Pre-Orders" please put those in a separate order, if at all possible. Much appreciated!
~At Checkout~
If you select In-Store Pickup, we will let you know as soon as your item(s) are available and waiting on our Contactless Cart, located just inside and behind the front door. Our current hours are Monday through Friday, 9:30 AM to 5:30 PM, Saturday from 9:30 AM to 4:30 PM, closed Sunday. Masks are still required to enter. If you'd prefer curbside pickup, please call from the front curb during business hours: (205) 632-5331.
Friends & Family Members Please mention membership in the order comments. New total will be calculated after you submit the order but before payment is processed.
TO USE A GIFT CARD Select Pay In-Store and In-Store Pickup (even if you need your order shipped), and include your gift card number on the back of the card in the order comments, along with your mailing address, if applicable. If your gift card will not cover the total with shipping (standard shipping is $2.50 + $2.00 per item) or you'd like to check your balance, please call (205) 632-5331 or email avery@ernestandhadleybooks.com.
Having trouble completing the order? Please leave your items in your cart and call (205) 632-5331 to finish your order over the phone.
Please visit our Help/FAQs page for more helpful tips.
Any other questions, just ask! We miss being face-to-face with our lovely customers, but are just a phone call (or email) away! Be safe, stay well, HAPPY READING!