You are here
Back to top
Heaven (Hardcover)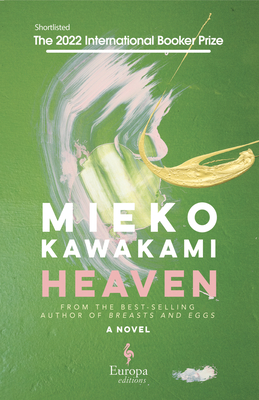 $24.00
Coming Soon - Available for Pre-Order Now
Description
---
From the bestselling author of Breasts and Eggs and international literary sensation Mieko Kawakami, a sharp and illuminating novel about the impact of violence and the power of solidarity in our contemporary societies.
Hailed as a bold foray into new literary territory, Kawakami's novel is told in the voice of a 14-year-old student subjected to relentless torment for having a lazy eye. Instead of resisting, the boy chooses to suffer in complete resignation. The only person who understands what he is going through is a female classmate who suffers similar treatment at the hands of her tormenters.
These raw and realistic portrayals of bullying are counterbalanced by textured exposition of the philosophical and religious debates concerning violence to which the weak are subjected.
Kawakami's simple yet profound new work stands as a dazzling testament to her literary talent. There can be little doubt that it has cemented her reputation as one of the most important young authors working to expand the boundaries of contemporary Japanese literature.
"One of Japan's brightest stars is set to explode across the global skies of literature."--Japan Times
About the Author
---
Mieko Kawakami is the author of the internationally best-selling novel, Breasts and Eggs, a New York Times Notable Book of the Year and one of TIME's Best 10 Books of 2020. Born in Osaka, Kawakami made her literary debut as a poet in 2006, and published her first novella, My Ego, My Teeth, and the World, in 2007. Her writing is known for its poetic qualities and its insights into the female body, ethical questions, and the dilemmas of modern society. Her books have been translated into many languages and are available all over the world. She has received numerous prestigious literary awards in Japan, including the Akutagawa Prize, the Tanizaki Prize, and the Murasaki Shikibu Prize. Kawakami lives in Tokyo, Japan.
Shopping Tips & Updates
COVID-19 UPDATES:
1. Please anticipate 3-5 business days for in-store pickup. We will let you know of any further delays, but if you need an item right away please call to see if it is in stock: (205) 632-5331.
2. Masks are required to enter the showroom and we are still offering curbside pickup if that is preferable. Select "in-store pickup," and when you receive notification that your order is ready, simply call from the curb out front and we will run it to you!
3. We are not accepting book drop-offs for store credit or donation (we never offer cash). We may re-evaluate after Nov. 8, 2020 when the state-wide mandate is expected to end. TBD. Thank you for understanding and continuing to do your part to stop the spread of the novel coronavirus.
~~~~~~~~~~~~~~~~~~~~~~~~~~~~~~~~~~~~~~~~~~~~~
Items appearing here do not necessarily indicate what is currently in stock at Ernest & Hadley Books. The product information displayed are records of books that have been, are, or will be available.
Please call ahead if you would like to see if it is currently in-stock: (205) 632-5331, click here OR use this as your guide:
~Product Details~
Items that "Usually Ship in 1-5 Days" are available! We either have it in stock or we may need to order it from the warehouse. Either way, we place orders twice a week so 1-5 business days is generally accurate. We will keep you posted on any outliers, especially during Covidia.
Items listed as "Hard to Find" or "Special Order," are likely not available. That being said, there is a possibility we have it in Used condition or an alternative edition. Please call the store to inquire and/or complete your order, (205) 632-5331, or email avery@ernestandhadleybooks.com.
"Backordered" books may be available, just not right away. Please call the store to inquire and/or complete your order, (205) 632-5331, or email avery@ernestandhadleybooks.com.
If you are purchasing a lot of items, please be aware that there may be delays, or they may arrive at different times. If any books are "Pre-Orders" please put those in a separate order, if at all possible. Much appreciated!
~At Checkout~
If you select In-Store Pickup, we will let you know as soon as your item(s) are available and waiting on our Contactless Cart, located just inside and behind the front door. Our current hours are Monday through Friday, 9:30 AM to 5:30 PM, Saturday from 9:30 AM to 4:30 PM, closed Sunday. Masks are still required to enter. If you'd prefer curbside pickup, please call from the front curb during business hours: (205) 632-5331.
Friends & Family Members Please mention membership in the order comments. New total will be calculated after you submit the order but before payment is processed.
TO USE A GIFT CARD Select Pay In-Store and In-Store Pickup (even if you need your order shipped), and include your gift card number on the back of the card in the order comments, along with your mailing address, if applicable. If your gift card will not cover the total with shipping (standard shipping is $2.50 + $2.00 per item) or you'd like to check your balance, please call (205) 632-5331 or email avery@ernestandhadleybooks.com.
Having trouble completing the order? Please leave your items in your cart and call (205) 632-5331 to finish your order over the phone.
Please visit our Help/FAQs page for more helpful tips.
Any other questions, just ask! We miss being face-to-face with our lovely customers, but are just a phone call (or email) away! Be safe, stay well, HAPPY READING!