You are here
Back to top
Heaven (Hardcover)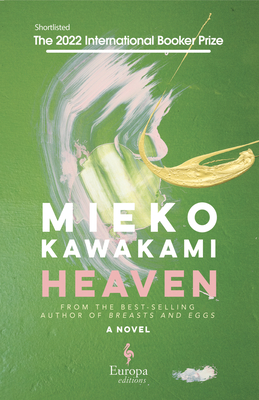 $23.00

Usually Ships in 1-5 Days
June 2021 Indie Next List
---
"I loved this book. Its portrayal of bullying is moving and intelligent. Kawakami gives us characters who speak to the heart and illustrate in one form or another the dilemma facing everyone in adolescence. Hopeful but chilling in equal measures."
— Don Luckham, The Toadstool Bookshop - Keene, Keene, NH
Description
---
From the bestselling author of Breasts and Eggs and international literary sensation Mieko Kawakami, a sharp and illuminating novel about the impact of violence and the power of solidarity.
A bold foray into new literary territory, Kawakami's novel is told in the voice of a 14-year-old student subjected to relentless torment for having a lazy eye. Instead of resisting, the boy chooses to suffer in complete resignation. The only person who understands what he is going through is a female classmate who suffers similar treatment at the hands of her tormentors.
These raw and realistic portrayals of bullying are counterbalanced by textured exposition of the philosophical and religious debates concerning violence to which the weak are subjected.
Heaven stands as a dazzling testament to Kawakami's literary talent. There can be little doubt that it has cemented her reputation as one of today's most important young authors working to expand the boundaries of contemporary Japanese literature.
A New York Times, Washington Post, TIME, Oprah Daily, CNN, Bustle, and Ms. Magazine most anticipated book of the year.

A June 2021 Indie Next Pick
About the Author
---
Mieko Kawakami is the author of the internationally best-selling novel, Breasts and Eggs, a New York Times Notable Book of the Year and one of TIME's Best 10 Books of 2020. Born in Osaka, Kawakami made her literary debut as a poet in 2006, and published her first novella, My Ego, My Teeth, and the World, in 2007. Her writing is known for its poetic qualities and its insights into the female body, ethical questions, and the dilemmas of modern society. Her books have been translated into many languages and are available all over the world. She has received numerous prestigious literary awards in Japan, including the Akutagawa Prize, the Tanizaki Prize, and the Murasaki Shikibu Prize. Kawakami lives in Tokyo, Japan.
Shopping Tips & Updates
COVID-19 UPDATE (July 31, 2021)
1. We are following CDC guidelines for in-person shopping. Our staff is fully vaccinated, but with Delta surging and Alabama's vaccination rate the national caboose, masks are required to enter. We are still offering curbside pickup if you prefer. Pay ahead online, select "in-store pickup," and when you receive notification that your order is ready, simply call from the 7th Street entrance: (205) 632-5331.
2. Please anticipate 3-5 business days for in-store pickup. We will let you know of any further delays, but if you need an item right away please call to see if it is in stock: (205) 632-5331.
3. Have questions about what it's like to get the vaccine? We're happy to discuss our experiences!
~~~~~~~~~~~~~~~~~~~~~~~~~~~~~~~~~~~~~~~~~~~~~
Items appearing here do not necessarily indicate what is currently in stock at Ernest & Hadley Books. The product information displayed are records of books that have been, are, or will be available.
Please call ahead if you would like to see if it is currently in-stock: (205) 632-5331, OR use this as your guide: click here
Please visit our Help/FAQs page for more helpful tips, or Important Terms & Conditions for how to use a gift card and other pertinent details about your order.
Any other questions, just ask! Happy browsing ~ Happy reading!