You are here
Back to top
The Lying Life of Adults (Hardcover)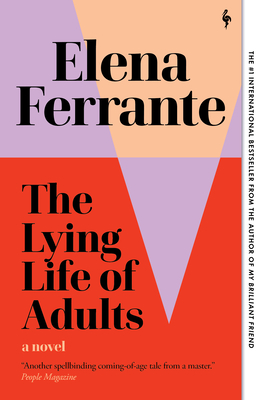 September 2020 Indie Next List
---
"Ferrante's latest novel gives an insightful and intriguing look at the life of a budding Italian teenage girl, both internally and externally. I found Ferrante's ability to delve into Giovanna's psyche fascinating, especially since I've never parented a girl and don't always feel like I understand them. Her sensitivity to the myriad of issues and the fragility of Giovanna's relationships make for a marvelous read. Ferrante is a gifted writer, and this latest offering does not disappoint. I loved this story! Fabulous read!"
— Stephanie Crowe, Page and Palette, Fairhope, AL
Description
---
A NEW YORK TIMES BESTSELLER
A NATIONAL INDIE BESTSELLER. Soon to be a NETFLIX Original Series.
A POWERFUL NEW NOVEL set in a divided Naples by ELENA FERRANTE, the New York Times best-selling author of My Brilliant Friend and The Lost Daughter.
"There's no doubt the publication of The Lying Life of Adults] will be the literary event of the year."--ELLE Magazine
Giovanna's pretty face is changing, turning ugly, at least so her father thinks. Giovanna, he says, looks more like her Aunt Vittoria every day. But can it be true? Is she really changing? Is she turning into her Aunt Vittoria, a woman she hardly knows but whom her mother and father clearly despise? Surely there is a mirror somewhere in which she can see herself as she truly is.
Giovanna is searching for her reflection in two kindred cities that fear and detest one another: Naples of the heights, which assumes a mask of refinement, and Naples of the depths, a place of excess and vulgarity. She moves from one to the other in search of the truth, but neither city seems to offer answers or escape.
Named one of 2016's most influential people by TIME Magazine and frequently touted as a future Nobel Prize-winner, Elena Ferrante has become one of the world's most read and beloved writers. With this new novel about the transition from childhood to adolescence to adulthood, Ferrante proves once again that she deserves her many accolades. In The Lying Life of Adults, readers will discover another gripping, highly addictive, and totally unforgettable Neapolitan story.
Shopping Tips & Updates
**PLEASE ANTICIPATE LONGER SHIPPING TIMES** We apologize for any inconvenience, but please add 1-3 business days to the "ships in 1-5 days" indicated next to available items on order. This is temporary!
Items appearing here do not necessarily indicate what is currently in stock at Ernest & Hadley Books. The product information displayed are records of books that have been, are, or will be available.
Please call ahead if you would like to see if it is currently in-stock: (205) 632-5331, click here OR use this as your guide:
~Product Details~
Items that "Usually Ship in 1-5 Days" (**see above**) are available! We either have it in stock or we may need to order it from the warehouse. Either way, we place orders twice a week so 1-5 business days is generally accurate. We will keep you posted on any outliers, especially during Covidia.
Items listed as "Hard to Find" or "Special Order," are likely not available. That being said, there is a possibility we have it in Used condition or an alternative edition. Please call the store to inquire and/or complete your order, (205) 632-5331, or email avery@ernestandhadleybooks.com.
"Backordered" books may be available, just not right away. Please call the store to inquire and/or complete your order, (205) 632-5331, or email avery@ernestandhadleybooks.com.
If you are purchasing a lot of items, please be aware that there may be delays, or they may arrive at different times. If any books are "Pre-Orders" please put those in a separate order, if at all possible. Much appreciated!
~At Checkout~
If you select In-Store Pickup, we will let you know as soon as your item(s) are available and waiting on our Contactless Cart, located just inside and behind the front door. Our current hours are Monday through Friday, 9:30 AM to 5:30 PM, Saturday from 9:30 AM to 4:30 PM, closed Sunday. Masks are still required to enter. If you'd prefer curbside pickup, please call from the front curb during business hours: (205) 632-5331.
Friends & Family Members Please mention membership in the order comments. New total will be calculated after you submit the order but before payment is processed.
TO USE A GIFT CARD Select Pay In-Store and In-Store Pickup (even if you need your order shipped), and include your gift card number on the back of the card in the order comments, along with your mailing address, if applicable. If your gift card will not cover the total with shipping (standard shipping is $2.50 + $2.00 per item) or you'd like to check your balance, please call (205) 632-5331 or email avery@ernestandhadleybooks.com.
Having trouble completing the order? Please leave your items in your cart and call (205) 632-5331 to finish your order over the phone.
Please visit our Help/FAQs page for more helpful tips.
Any other questions, just ask! We miss being face-to-face with our lovely customers, but are just a phone call (or email) away! Be safe, stay well, HAPPY READING!