You are here
Back to top
The Moon over Wapakoneta: Fictions and Science Fictions from Indiana and Beyond (Paperback)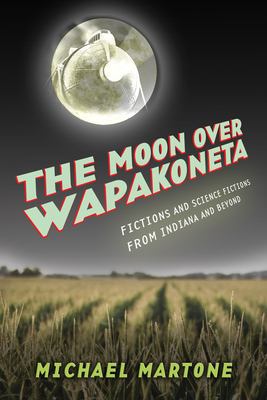 List Price: $16.95
Our Price: $13.56
(Save: $3.39 20%)
Usually Ships in 1-5 Days
Description
---
Lyric fictions by a master fabulist of America's Midwest

The Moon over Wapakoneta is vintage Michael Martone, the visionary oracle of the American Midwest with the gift for discovering the marvelous in the mundane. In these stories Martone shows us how traveling across time zones from Ohio to Indiana is a form of time travel; how a beer bottle can serve as a kind of telescope, how Amish might power their spaceships with windmills as they travel through space and time. These stories capture the paradox of feeling that one is in the heart of the country while at the same time in the middle of nowhere, of natives who find themselves strangers in their once familiar, but now strange, lands.

On display is a love of obsolete technologies, small-town whimsy, home movies of proms and birthday parties, steam engines and baseball games. If Italo Calvino lived in Indiana rather than Italy, these are the fictions he might have made.
About the Author
---
Michael Martone is a professor of creative writing in the Department of English at the University of Alabama. He is the author of many books, among them The Blue Guide to Indiana, Four for a Quarter, and Michael Martone. He lives in Tuscaloosa with the poet Theresa Pappas.
Praise For…
---
"In this volume of sly sci-fi stories, the strange is not found in the vistas of the future, but rather in the most familiar American technologies of the past—silos, watches, railroad trains—all of which are transformed by Martone's astonishing eye into a landscape at once familiar and transcendent."
—M. T. Anderson, author of Feed, The Astonishing Life of Octavian Nothing, Traitor to the Nation Volume I: The Pox Party, and The Astonishing Life of Octavian Nothing, Traitor to the Nation Volume II: The Kingdom on the Waves


"A playfully poetic exploration of place, proximity, relativity, and time. Refreshingly original and poignantly sentimental. A feast for the mind. Some of my favorite bits were 'Four Yearbook Signatures' and 'Girl Who Cried Sweetly.'"
—Chinelo Okparanta, author of Under the Udala Trees and Happiness, Like Water: Stories

"In Moon over Wapakoneta, Michael Martone has turned his literary gaze to the moon and the stars and we're all the luckier for it. Within these pages are Amish astronauts, atomic clocks, moon museums, and holographic movie stars. Once again, the Mark Twain of metafiction offers us a collection of fictions and beautiful universes—including our own."
—Alexander Weinstein, author of Children of the New World: Stories
"Oh, this world is wondrous and strange. Michael Martone, the Indiana trickster, makes amusements of a serious, silliest, surrealist sort. In this, his book of games, Martone electrifies distances across outer space; lost lusts; the lore of locomotives; the love, love, love of literature and all its lands. A journey far beyond."
— Samantha Hunt, author of The Dark Dark: Stories and Mr. Splitfoot
Shopping Tips
Items appearing here do not necessarily indicate what is currently in stock at Ernest & Hadley Books. The product information displayed are records of books that have been, are, or will be available.
Please call ahead if you would like to see if it is currently in-stock: (205) 632-5331, click here OR use this as your guide:
~Look to the right of the book cover~
Items that "Usually Ship in 1-5 Days" are readily available! We either have it in stock or we may need to order it from the warehouse. Either way, we place orders twice a week so 1-5 business days is accurate! We will keep you posted on any outliers.
Items listed as "Hard to Find" or "Special Order," are likely not available. That being said, there is a possibility we have it in Used condition or an alternative edition, so please feel free to place the order. We will let you know right away if we must cancel, along with our heartfelt regrets!
Items that are "Backordered" will be delayed. Sometimes we have an exact date of when the publisher will have them ready and sometimes we do not. We will keep you in the loop, either way!
~At Checkout~
If you select In-Store Pickup (currently Curbside Pickup whilst engaged in pandemic safety measures) we will let you know as soon as your item(s) are available. At that point, we will schedule a pickup time that coincides with your essential errands.
Friends & Family Members Please select Pay In-Store, and call or email to arrange pick-up and payment.
TO USE A GIFT CARD Select Pay In-Store and include your gift card number, found on the back of the card, in the order comments.
Please visit our Help/FAQs page for more helpful tips.
Any other questions, just ask! We miss being face-to-face with our lovely customers, but are just a phone call (or email) away! Be safe, stay well, HAPPY READING!