You are here
Back to top
A Promised Land (Hardcover)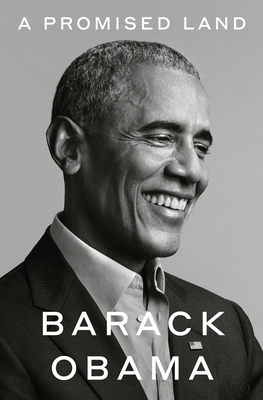 Description
---
A riveting, deeply personal account of history in the making—from the president who inspired us to believe in the power of democracy

#1 NEW YORK TIMES BESTSELLER • NAACP IMAGE AWARD FINALIST • NAMED ONE OF THE TEN BEST BOOKS OF THE YEAR BY THE NEW YORK TIMES BOOK REVIEW

NAMED ONE OF THE BEST BOOKS OF THE YEAR BY The Washington Post • Jennifer Szalai, The New York Times • NPR • The Guardian • Marie Claire
 
In the stirring, highly anticipated first volume of his presidential memoirs, Barack Obama tells the story of his improbable odyssey from young man searching for his identity to leader of the free world, describing in strikingly personal detail both his political education and the landmark moments of the first term of his historic presidency—a time of dramatic transformation and turmoil.

Obama takes readers on a compelling journey from his earliest political aspirations to the pivotal Iowa caucus victory that demonstrated the power of grassroots activism to the watershed night of November 4, 2008, when he was elected 44th president of the United States, becoming the first African American to hold the nation's highest office.

Reflecting on the presidency, he offers a unique and thoughtful exploration of both the awesome reach and the limits of presidential power, as well as singular insights into the dynamics of U.S. partisan politics and international diplomacy. Obama brings readers inside the Oval Office and the White House Situation Room, and to Moscow, Cairo, Beijing, and points beyond. We are privy to his thoughts as he assembles his cabinet, wrestles with a global financial crisis, takes the measure of Vladimir Putin, overcomes seemingly insurmountable odds to secure passage of the Affordable Care Act, clashes with generals about U.S. strategy in Afghanistan, tackles Wall Street reform, responds to the devastating Deepwater Horizon blowout, and authorizes Operation Neptune's Spear, which leads to the death of Osama bin Laden.

A Promised Land is extraordinarily intimate and introspective—the story of one man's bet with history, the faith of a community organizer tested on the world stage. Obama is candid about the balancing act of running for office as a Black American, bearing the expectations of a generation buoyed by messages of "hope and change," and meeting the moral challenges of high-stakes decision-making. He is frank about the forces that opposed him at home and abroad, open about how living in the White House affected his wife and daughters, and unafraid to reveal self-doubt and disappointment. Yet he never wavers from his belief that inside the great, ongoing American experiment, progress is always possible.

This beautifully written and powerful book captures Barack Obama's conviction that democracy is not a gift from on high but something founded on empathy and common understanding and built together, day by day.
About the Author
---
Barack Obama was the 44th president of the United States, elected in November 2008 and holding office for two terms. He is the author of two previous New York Times bestselling books, Dreams from My Father and The Audacity of Hope, and the recipient of the 2009 Nobel Peace Prize. He lives in Washington, D.C., with his wife, Michelle. They have two daughters, Malia and Sasha.
Praise For…
---
"Barack Obama is as fine a writer as they come. . . . [A Promised Land] is nearly always pleasurable to read, sentence by sentence, the prose gorgeous in places, the detail granular and vivid. . . . The story will continue in the second volume, but Barack Obama has already illuminated a pivotal moment in American history, and how America changed while also remaining unchanged."—Chimamanda Ngozi Adichie, The New York Times Book Review
Shopping Tips & Updates
COVID-19 UPDATES:
1. Please anticipate 3-5 business days for in-store pickup. We will let you know of any further delays, but if you need an item right away please call to see if it is in stock: (205) 632-5331.
2. Masks are required to enter the showroom and we are still offering curbside pickup if that is preferable. Select "in-store pickup," and when you receive notification that your order is ready, simply call from the curb out front and we will run it to you!
3. We are not accepting book drop-offs for store credit or donation (we never offer cash). We may re-evaluate after Nov. 8, 2020 when the state-wide mandate is expected to end. TBD. Thank you for understanding and continuing to do your part to stop the spread of the novel coronavirus.
~~~~~~~~~~~~~~~~~~~~~~~~~~~~~~~~~~~~~~~~~~~~~
Items appearing here do not necessarily indicate what is currently in stock at Ernest & Hadley Books. The product information displayed are records of books that have been, are, or will be available.
Please call ahead if you would like to see if it is currently in-stock: (205) 632-5331, click here OR use this as your guide:
~Product Details~
Items that "Usually Ship in 1-5 Days" are available! We either have it in stock or we may need to order it from the warehouse. Either way, we place orders twice a week so 1-5 business days is generally accurate. We will keep you posted on any outliers, especially during Covidia.
Items listed as "Hard to Find" or "Special Order," are likely not available. That being said, there is a possibility we have it in Used condition or an alternative edition. Please call the store to inquire and/or complete your order, (205) 632-5331, or email avery@ernestandhadleybooks.com.
"Backordered" books may be available, just not right away. Please call the store to inquire and/or complete your order, (205) 632-5331, or email avery@ernestandhadleybooks.com.
If you are purchasing a lot of items, please be aware that there may be delays, or they may arrive at different times. If any books are "Pre-Orders" please put those in a separate order, if at all possible. Much appreciated!
~At Checkout~
If you select In-Store Pickup, we will let you know as soon as your item(s) are available and waiting on our Contactless Cart, located just inside and behind the front door. Our current hours are Monday through Friday, 9:30 AM to 5:30 PM, Saturday from 9:30 AM to 4:30 PM, closed Sunday. Masks are still required to enter. If you'd prefer curbside pickup, please call from the front curb during business hours: (205) 632-5331.
Friends & Family Members Please mention membership in the order comments. New total will be calculated after you submit the order but before payment is processed.
TO USE A GIFT CARD Select Pay In-Store and In-Store Pickup (even if you need your order shipped), and include your gift card number on the back of the card in the order comments, along with your mailing address, if applicable. If your gift card will not cover the total with shipping (standard shipping is $2.50 + $2.00 per item) or you'd like to check your balance, please call (205) 632-5331 or email avery@ernestandhadleybooks.com.
Having trouble completing the order? Please leave your items in your cart and call (205) 632-5331 to finish your order over the phone.
Please visit our Help/FAQs page for more helpful tips.
Any other questions, just ask! We miss being face-to-face with our lovely customers, but are just a phone call (or email) away! Be safe, stay well, HAPPY READING!