You are here
Back to top
Unfreedom of the Press (Hardcover)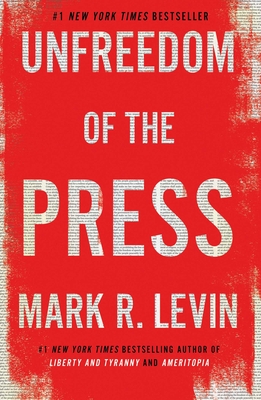 Description
---
From six-time #1 New York Times bestselling author, FOX News star, and radio host Mark R. Levin comes a groundbreaking and enlightening book that shows how the great tradition of the American free press has degenerated into a standardless profession that has squandered the faith and trust of the American public, not through actions of government officials, but through its own abandonment of reportorial integrity and objective journalism.

Unfreedom of the Press is not just another book about the press. Levin shows how those entrusted with news reporting today are destroying freedom of the press from within: "not government oppression or suppression," he writes, but self-censorship, group-think, bias by omission, and passing off opinion, propaganda, pseudo-events, and outright lies as news.

With the depth of historical background for which his books are renowned, Levin takes the reader on a journey through the early American patriot press, which proudly promoted the principles set forth in the Declaration of Independence and the Constitution, followed by the early decades of the Republic during which newspapers around the young country were open and transparent about their fierce allegiance to one political party or the other.

It was only at the start of the Progressive Era and the twentieth century that the supposed "objectivity of the press" first surfaced, leaving us where we are today: with a partisan party-press overwhelmingly aligned with a political ideology but hypocritically engaged in a massive untruth as to its real nature.
About the Author
---
Mark R. Levin, nationally syndicated talk-radio host, host of LevinTV, chairman of Landmark Legal Foundation, and the host of the FOX News show Life, Liberty, & Levin, is the author of six consecutive #1 New York Times bestsellers: Liberty and Tyranny, Plunder and Deceit, Rediscovering Americanism, Ameritopia, The Liberty Amendments, and Unfreedom of the Press. Liberty and Tyranny spent three months at #1 and sold more than 1.5 million copies. His books Men in Black and Rescuing Sprite were also New York Times bestsellers. Levin is an inductee of the National Radio Hall of Fame and was a top adviser to several members of President Ronald Reagan's cabinet. He holds a BA from Temple University and a JD from Temple University Law School.
Praise For…
---
PRAISE FOR UNFREEDOM OF THE PRESS

"The most important book of 2019 — and 2020... Mark Levin hits it out of the park every single time. He is the Babe Ruth of freedom. " —The American Spectator

"Levin's finest work." —Joel Pollak, Breitbart

"Mark Levin trounces the news media." –The Washington Times

"Superb and timely...[Unfreedom of the Press] will in the future be an important historical source for this extraordinary period." —Roger Simon, PJ Media

"Nails it exactly…truer words could not be spoken." –Jeffrey Lord, The American Spectator

"For clear-thinking Americans, Levin's book comes along in the right place, at the right time." –Craig Shirley, syndicated columnist

PRAISE FOR MARK LEVIN

"Millions have been inspired by Levin to be missionaries for liberty. Levin is too modest to accept the label of hero, but to lead the reawakening of constitutionalism and to shape a mass movement around it is a Herculean feat.… There simply is no comparable mind on the side of the Left."—Spyridon Mitsotakis, Daily Wire

"Those who only know Mark Levin for his radio program or his Sunday night show on Fox News are missing out on one of conservatism's best writers. Levin's books offer detailed, fleshed out renderings of the arguments he makes on his shows. They're punchy, witty, and easily digestible." —The Federalist

"I was introduced to Levin when I was a young high schooler who knew and cared little about politics. Until, one day, my friend showed me a video of Mark Levin. That day my life was changed. He persuaded me to dedicate my life to fighting for freedom. In addition to his great work, Mark must be recognized for creating an army of energized freedom fighters that will continue to promote the cause long into the future."—Elliot Fuchs, Daily Wire

"... [The] Fox News program "Life Liberty & Levin," hosted by Mark Levin ... is more intellectual than anything produced on ABC, NBC, CBS, CNN or MSNBC. Nothing they have on air comes even close."—Brent Bozell, Media Research Center

"…Mark Levin was officially inducted into the National Radio Hall of Fame, and one wonders what took so long. His induction was presented by fellow Hall of Famers Rush Limbaugh and Sean Hannity, and the three figures comprise what can accurately be described as the talk radio 'Mount Rushmore.'"—Larry O'Connor, The Washington Times

"A warrior of the right of longstanding…simply calling Levin a radio talk show host or a Fox TV host is like calling Nolan Ryan just another pitcher." –Craig Shirley, syndicated columnist
Shopping Tips & Updates
**PLEASE ANTICIPATE LONGER SHIPPING TIMES** We apologize for any inconvenience, but please add 1-3 business days to the "ships in 1-5 days" indicated next to available items on order. This is temporary!
Items appearing here do not necessarily indicate what is currently in stock at Ernest & Hadley Books. The product information displayed are records of books that have been, are, or will be available.
Please call ahead if you would like to see if it is currently in-stock: (205) 632-5331, click here OR use this as your guide:
~Product Details~
Items that "Usually Ship in 1-5 Days" (**see above**) are available! We either have it in stock or we may need to order it from the warehouse. Either way, we place orders twice a week so 1-5 business days is generally accurate. We will keep you posted on any outliers, especially during Covidia.
Items listed as "Hard to Find" or "Special Order," are likely not available. That being said, there is a possibility we have it in Used condition or an alternative edition. Please call the store to inquire and/or complete your order, (205) 632-5331, or email avery@ernestandhadleybooks.com.
"Backordered" books may be available, just not right away. Please call the store to inquire and/or complete your order, (205) 632-5331, or email avery@ernestandhadleybooks.com.
If you are purchasing a lot of items, please be aware that there may be delays, or they may arrive at different times. If any books are "Pre-Orders" please put those in a separate order, if at all possible. Much appreciated!
~At Checkout~
If you select In-Store Pickup, we will let you know as soon as your item(s) are available and waiting on our Contactless Cart, located just inside and behind the front door. Our current hours are Monday through Friday, 9:30 AM to 5:30 PM, Saturday from 9:30 AM to 4:30 PM, closed Sunday. Masks are still required to enter. If you'd prefer curbside pickup, please call from the front curb during business hours: (205) 632-5331.
Friends & Family Members Please mention membership in the order comments. New total will be calculated after you submit the order but before payment is processed.
TO USE A GIFT CARD Select Pay In-Store and In-Store Pickup (even if you need your order shipped), and include your gift card number on the back of the card in the order comments, along with your mailing address, if applicable. If your gift card will not cover the total with shipping (standard shipping is $2.50 + $2.00 per item) or you'd like to check your balance, please call (205) 632-5331 or email avery@ernestandhadleybooks.com.
Having trouble completing the order? Please leave your items in your cart and call (205) 632-5331 to finish your order over the phone.
Please visit our Help/FAQs page for more helpful tips.
Any other questions, just ask! We miss being face-to-face with our lovely customers, but are just a phone call (or email) away! Be safe, stay well, HAPPY READING!