You are here
Back to top
National Geographic Kids Why?: Over 1,111 Answers to Everything (Hardcover)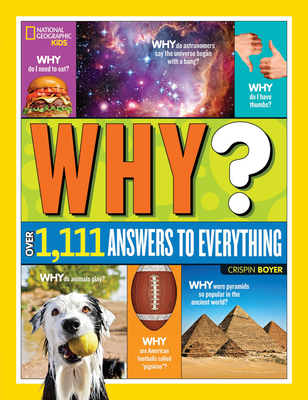 $19.99
Usually Ships in 1-5 Days
Description
---
The concept is simple. Got a question? Well now you have an answer! 1,111 of them, in fact. Want to know why your snot is yellow? Flip to the human body chapter. What's on the inside of a turtle shell? The animal section's got you covered. What's in the deepest part of the ocean? Why doesn't Earth just float off into space? Check, check, and check. With hundreds of topics ranging from silly to serious, we've got the expert information you need in a fun and entertaining format that will keep kids digging for answers. Answers include all kinds of fascinating extra info like top ten lists, weird-but-true facts, explorer profiles, and cool activities. Now, go stump your parents!
About the Author
---
CRISPIN BOYER is a veteran NG Kids writer, with 10 books and dozens of Kids' Magazine articles to his name. His ability to combine wit with impeccable research and apply it to high kid interest topics makes him a hot commodity in the children's books market. He lives in Mexico.
Praise For…
---
"In short, this book is everything you always wanted to know about . . . well, everything, and then some.

The text is written with a lively vocabulary that pushes teens and tweens to expand their minds and challenge their reading levels. This is definitely one for the science, reading, art, or language classroom." – New York Journal of Books


.
Shopping Tips & Updates
COVID-19 UPDATES:
1. Please anticipate 3-5 business days for in-store pickup. We will let you know of any further delays, but if you need an item right away please call to see if it is in stock: (205) 632-5331.
2. Masks are required to enter the showroom and we are still offering curbside pickup if that is preferable. Select "in-store pickup," and when you receive notification that your order is ready, simply call from the curb out front and we will run it to you!
3. We are not accepting book drop-offs for store credit or donation (we never offer cash). We may re-evaluate after Nov. 8, 2020 when the state-wide mandate is expected to end. TBD. Thank you for understanding and continuing to do your part to stop the spread of the novel coronavirus.
~~~~~~~~~~~~~~~~~~~~~~~~~~~~~~~~~~~~~~~~~~~~~
Items appearing here do not necessarily indicate what is currently in stock at Ernest & Hadley Books. The product information displayed are records of books that have been, are, or will be available.
Please call ahead if you would like to see if it is currently in-stock: (205) 632-5331, click here OR use this as your guide:
~Product Details~
Items that "Usually Ship in 1-5 Days" are available! We either have it in stock or we may need to order it from the warehouse. Either way, we place orders twice a week so 1-5 business days is generally accurate. We will keep you posted on any outliers, especially during Covidia.
Items listed as "Hard to Find" or "Special Order," are likely not available. That being said, there is a possibility we have it in Used condition or an alternative edition. Please call the store to inquire and/or complete your order, (205) 632-5331, or email avery@ernestandhadleybooks.com.
"Backordered" books may be available, just not right away. Please call the store to inquire and/or complete your order, (205) 632-5331, or email avery@ernestandhadleybooks.com.
If you are purchasing a lot of items, please be aware that there may be delays, or they may arrive at different times. If any books are "Pre-Orders" please put those in a separate order, if at all possible. Much appreciated!
~At Checkout~
If you select In-Store Pickup, we will let you know as soon as your item(s) are available and waiting on our Contactless Cart, located just inside and behind the front door. Our current hours are Monday through Friday, 9:30 AM to 5:30 PM, Saturday from 9:30 AM to 4:30 PM, closed Sunday. Masks are still required to enter. If you'd prefer curbside pickup, please call from the front curb during business hours: (205) 632-5331.
Friends & Family Members Please mention membership in the order comments. New total will be calculated after you submit the order but before payment is processed.
TO USE A GIFT CARD Select Pay In-Store and In-Store Pickup (even if you need your order shipped), and include your gift card number on the back of the card in the order comments, along with your mailing address, if applicable. If your gift card will not cover the total with shipping (standard shipping is $2.50 + $2.00 per item) or you'd like to check your balance, please call (205) 632-5331 or email avery@ernestandhadleybooks.com.
Having trouble completing the order? Please leave your items in your cart and call (205) 632-5331 to finish your order over the phone.
Please visit our Help/FAQs page for more helpful tips.
Any other questions, just ask! We miss being face-to-face with our lovely customers, but are just a phone call (or email) away! Be safe, stay well, HAPPY READING!