You are here
Back to top
National Geographic Kids Why?: Over 1,111 Answers to Everything (Hardcover)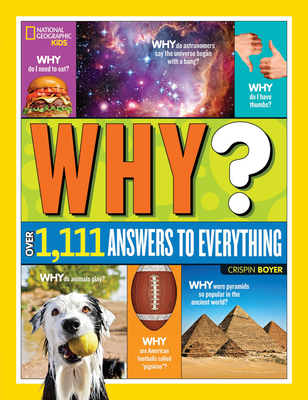 $19.99

Usually Ships in 1-5 Days
Description
---
The concept is simple. Got a question? Well now you have an answer! 1,111 of them, in fact. Want to know why your snot is yellow? Flip to the human body chapter. What's on the inside of a turtle shell? The animal section's got you covered. What's in the deepest part of the ocean? Why doesn't Earth just float off into space? Check, check, and check. With hundreds of topics ranging from silly to serious, we've got the expert information you need in a fun and entertaining format that will keep kids digging for answers. Answers include all kinds of fascinating extra info like top ten lists, weird-but-true facts, explorer profiles, and cool activities. Now, go stump your parents!
About the Author
---
CRISPIN BOYER is a veteran NG Kids writer, with 10 books and dozens of Kids' Magazine articles to his name. His ability to combine wit with impeccable research and apply it to high kid interest topics makes him a hot commodity in the children's books market. He lives in Mexico.
Praise For…
---
"In short, this book is everything you always wanted to know about . . . well, everything, and then some.

The text is written with a lively vocabulary that pushes teens and tweens to expand their minds and challenge their reading levels. This is definitely one for the science, reading, art, or language classroom." – New York Journal of Books


.
Shopping Tips & Updates
COVID-19 UPDATE (July 31, 2021)
1. We are following CDC guidelines for in-person shopping. Our staff is fully vaccinated, but with Delta surging and Alabama's vaccination rate the national caboose, masks are required to enter. We are still offering curbside pickup if you prefer. Pay ahead online, select "in-store pickup," and when you receive notification that your order is ready, simply call from the 7th Street entrance: (205) 632-5331.
2. Please anticipate 3-5 business days for in-store pickup. We will let you know of any further delays, but if you need an item right away please call to see if it is in stock: (205) 632-5331.
3. Have questions about what it's like to get the vaccine? We're happy to discuss our experiences!
~~~~~~~~~~~~~~~~~~~~~~~~~~~~~~~~~~~~~~~~~~~~~
Items appearing here do not necessarily indicate what is currently in stock at Ernest & Hadley Books. The product information displayed are records of books that have been, are, or will be available.
Please call ahead if you would like to see if it is currently in-stock: (205) 632-5331, OR use this as your guide: click here
Please visit our Help/FAQs page for more helpful tips, or Important Terms & Conditions for how to use a gift card and other pertinent details about your order.
Any other questions, just ask! Happy browsing ~ Happy reading!