You are here
Back to top
National Geographic Little Kids First Big Book of Why (Hardcover)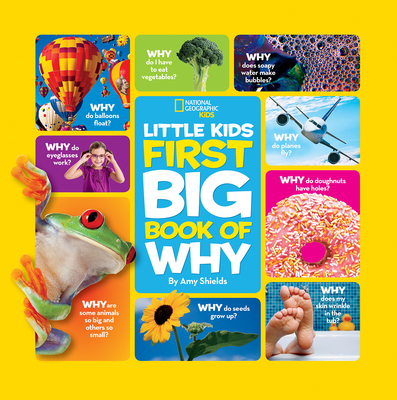 $14.95

Usually Ships in 1-5 Days
Description
---
Linking to a popular feature in the super successful National Geographic Little Kids magazine, this book brings the browsable fun of the bestselling National Geographic Kids Almanac to a new audience: preschoolers! Using an interactive question-and-answer format and content grounded in a child's immediate world, the Big Book of Why delivers lively information, hands-on games, simple recipes, crafts, and more. What makes a car go? How does mushy dough become a crispy cookie? What does the doctor see in my throat? An essential parent reference, The Big Book of Why invites children to ask big questions, think big thoughts, and get answers that are accurate, engaging, level-appropriate, and based on sound educational findings. It helps prepare preschoolers for school in an interactive way—the very best way to foster learning at this age, according to research. Highly photographic and playful, this big book is an adventure in exploration.
About the Author
---
Amy Shields is a longtime editor of National Geographic books who is known for her work in children's literature. She has written several popular titles, including Little Kids First Big Book of Why and numerous installments for the National Geographic Readers series. Shields lives in upstate New York with her beloved dogs, Jenny and Toby.
Praise For…
---
"Highly photographic and playful, this big book is an adventure in exploration and will make long car rides seem like a quick trip around the corner!" –Woman of Many Roles blog
Shopping Tips & Updates
COVID-19 UPDATE (July 31, 2021)
1. We are following CDC guidelines for in-person shopping. Our staff is fully vaccinated, but with Delta surging and Alabama's vaccination rate the national caboose, masks are required to enter. We are still offering curbside pickup if you prefer. Pay ahead online, select "in-store pickup," and when you receive notification that your order is ready, simply call from the 7th Street entrance: (205) 632-5331.
2. Please anticipate 3-5 business days for in-store pickup. We will let you know of any further delays, but if you need an item right away please call to see if it is in stock: (205) 632-5331.
3. Have questions about what it's like to get the vaccine? We're happy to discuss our experiences!
~~~~~~~~~~~~~~~~~~~~~~~~~~~~~~~~~~~~~~~~~~~~~
Items appearing here do not necessarily indicate what is currently in stock at Ernest & Hadley Books. The product information displayed are records of books that have been, are, or will be available.
Please call ahead if you would like to see if it is currently in-stock: (205) 632-5331, OR use this as your guide: click here
Please visit our Help/FAQs page for more helpful tips, or Important Terms & Conditions for how to use a gift card and other pertinent details about your order.
Any other questions, just ask! Happy browsing ~ Happy reading!