You are here
Back to top
Flora Coloring Book (Hardcover)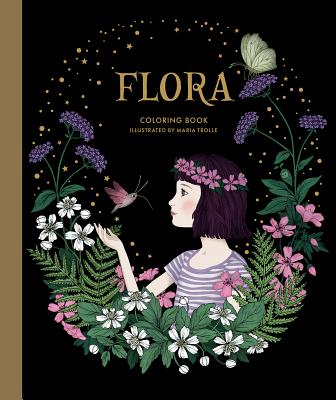 $14.99

Usually Ships in 1-5 Days
Description
---
Venture into Flora's fairytale land as the seasons change. Illustrations of lush springtime flowers give way to a verdant summer and bountiful autumn which progress into a peaceful winter snowfall. People, sprites, and animals co-exist in this abundant garden. Let your mind come to rest as you color floral wreaths, sleeping fairies, fanciful houses, and busy bees. Includes a register for the plants and animals found within these pages, as well as twelve pages with Maria Trolle's signature white-on-black imagery.
Maria Trolle is a graphic designer and illustrator living in Tyres , outside Stockholm. Her passion for gardening acts as a thread to her art, with plants, vegetables, and flowers offering daily inspiration, preferably from her own garden. Flora is her third coloring book.
Shopping Tips & Updates
COVID-19 UPDATE (July 31, 2021)
1. We are following CDC guidelines for in-person shopping. Our staff is fully vaccinated, but with Delta surging and Alabama's vaccination rate the national caboose, masks are required to enter. We are still offering curbside pickup if you prefer. Pay ahead online, select "in-store pickup," and when you receive notification that your order is ready, simply call from the 7th Street entrance: (205) 632-5331.
2. Please anticipate 3-5 business days for in-store pickup. We will let you know of any further delays, but if you need an item right away please call to see if it is in stock: (205) 632-5331.
3. Have questions about what it's like to get the vaccine? We're happy to discuss our experiences!
~~~~~~~~~~~~~~~~~~~~~~~~~~~~~~~~~~~~~~~~~~~~~
Items appearing here do not necessarily indicate what is currently in stock at Ernest & Hadley Books. The product information displayed are records of books that have been, are, or will be available.
Please call ahead if you would like to see if it is currently in-stock: (205) 632-5331, OR use this as your guide: click here
Please visit our Help/FAQs page for more helpful tips, or Important Terms & Conditions for how to use a gift card and other pertinent details about your order.
Any other questions, just ask! Happy browsing ~ Happy reading!