You are here
Back to top
A Portrait of Walt Disney World: 50 Years of The Most Magical Place on Earth (Disney Editions Deluxe) (Hardcover)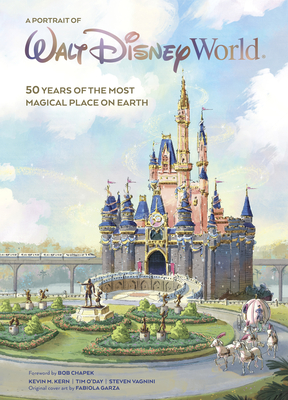 $60.00
Email or call for price
Description
---
Walt Disney World honors its fiftieth anniversary with "The World's Most Magical Celebration," an incredible 18-month event that begins October 1, 2021. As part of the festivities, this must-have coffee table book paints a robust portrait of the Florida resort, through vibrant voices and rare Disney theme park concept art, photographs, and ephemera.
Walt Disney's vision for the "Florida Project" begins with Disneyland and the 1964-1965 New York World's Fair. After an imaginative and expansive design, a unique land acquisition process, and an innovative construction period, Walt Disney World celebrated its opening in 1971. It featured a theme park dubbed the Magic Kingdom and three exquisitely themed resorts: Disney's Contemporary Resort, Disney's Polynesian Village, and Disney's Fort Wilderness Resort & Campground.
As Walt Disney World consistently grew and evolved through the five decades that have followed, certain themes keep reverberating: there's an appreciation for nostalgia, a joy in fantasy, a hunger for discovery, and an unending hope for a better tomorrow. Inspirational and memorable theme parks, water parks, sports arenas, recreational water sports options, world-class golf courses, vast shopping villages, and a transportation network unlike any other in the world resulted in fun and familiar characters, traditions, spectacles, merchandise, and so much more. The resort has come to represent the pulse of American leisure and has served as a backdrop for life's milestones both big and small, public and private.
A Portrait of Walt Disney World: 50 Years of The Most Magical Place on Earth serves as a treasure trove for pop culture enthusiasts, students of hospitality, artists, art collectors, and Disney fans.
Searching for ways to celebrate the Walt Disney World Resort? Explore more books from Disney Editions
:
Delicious Disney: Walt Disney World
Birnbaum's 2022 Walt Disney World: The Official Vacation Guide
Birnbaum's 2022 Walt Disney World for Kids: The Official Guide
Art of Coloring: Walt Disney World
The Disney Monorail: Imagineering a Highway in the Sky
Maps of the Disney Parks: Charting 60 Years from California to Shanghai
The Haunted Mansion: Imagineering a Disney Classic
Poster Art of the Disney Parks

About the Author
---
Kevin M. Kern began his career with the Walt Disney Archives in 2011. As the group's manager of research, he works predominantly with historical documents and artwork, and helps to facilitate company legacy and outreach projects, including oral histories and the development and installation of museum exhibitions. He's hosted special event programming for many business units across The Walt Disney Company and has had his writing featured in numerous publications.

Tim O'Day is a successful writer, public relations executive, ideation consultant, and events producer. His creative spark was behind creating an Olympic-size lap pool at Disneyland for U.S. Olympian swimmers, procuring a Disneyland star on the Hollywood Walk of Fame, placing "Dumbo" in the Smithsonian, securing Dame Julie Andrews as the Disneyland 50th anniversary honorary ambassador, and having the pardoned White House Thanksgiving turkeys retire to the Disney parks. He has worked with almost all the Disney Legends and helped secure the National Medal of Arts from President George W. Bush for the legendary songwriters Richard and Robert Sherman in a White House ceremony. He most recently contributed to the Behind the Attractiondocuseries, which will be releasing on Disney+.

Steven Vagnini is a show awareness producer for Walt Disney Imagineering, where he curates the stories behind the parks, resort hotels, and other experiences of the Walt Disney World Resort. He previously served on the staffs of the Walt Disney Archives, D23, and Disney Corporate Creative Resources after several years as a Walt Disney World cast member. He has produced a variety of special events, including for the Walt Disney World 40th and EPCOT 30th and 35th anniversaries, plus has written for several Disney publications, including having collaborated with Disney Legend Dave Smith on the latest editions of Disney A to Z: The Official Encyclopedia.

Cover artist Fabiola Garza is a character artist at Disney Creative group in Orlando, Florida. During her career she has had the pleasure of working on The Little Golden Book for Pixar's Coco and designing the beloved turtle 'Olu Mel for Aulani, A Disney Resort & Spa. She is also the author and illustrator of the award-winning children's book A Boy Who Became Pope: The Story of Saint John Paul II. During her free time she enjoys ballroom dancing, the work of G. K. Chesterton, and contributing to Catholic publications and podcasts. Her favorite Walt Disney World attraction is Spaceship Earth.
Shopping Tips & Updates
COVID-19 UPDATE (July 31, 2021)
1. We are following CDC guidelines for in-person shopping. Our staff is fully vaccinated, but with Delta surging and Alabama's vaccination rate the national caboose, masks are required to enter. We are still offering curbside pickup if you prefer. Pay ahead online, select "in-store pickup," and when you receive notification that your order is ready, simply call from the 7th Street entrance: (205) 632-5331.
2. Please anticipate 3-5 business days for in-store pickup. We will let you know of any further delays, but if you need an item right away please call to see if it is in stock: (205) 632-5331.
3. Have questions about what it's like to get the vaccine? We're happy to discuss our experiences!
~~~~~~~~~~~~~~~~~~~~~~~~~~~~~~~~~~~~~~~~~~~~~
Items appearing here do not necessarily indicate what is currently in stock at Ernest & Hadley Books. The product information displayed are records of books that have been, are, or will be available.
Please call ahead if you would like to see if it is currently in-stock: (205) 632-5331, OR use this as your guide: click here
Please visit our Help/FAQs page for more helpful tips, or Important Terms & Conditions for how to use a gift card and other pertinent details about your order.
Any other questions, just ask! Happy browsing ~ Happy reading!