You are here
Back to top
The Perfect Day to Boss Up: A Hustler's Guide to Building Your Empire (Hardcover)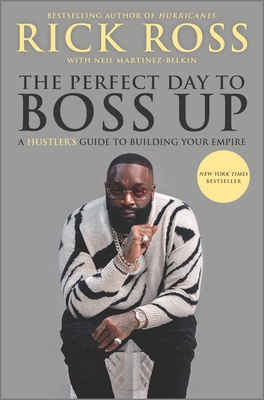 $27.99
Email or call for price
Description
---
*NEW YORK TIMES BESTSELLER*

A captivating and inspiring guide to building an untouchable empire from mud to marble, no matter what obstacles stand in the way
Rick Ross is a hip-hop icon and a towering figure in the business world, but his path to success was not always easy. Despite adversity and setbacks, Ross held tight to his vision and never settled for anything less than greatness. Now, for the first time, he shares his secrets to success, offering his own life as a road map to readers looking to build their own empire. Along the way he reveals:
How to turn your ambition into action
Tips for managing and investing your money
Inside stories from his business and music ventures
Why failure is central to success
Secrets to handling stressful situations
How to build the perfect team
As Ross explains, "It doesn't matter what's going on. Even the most dire situation is just another opportunity to boss up."Intimate, insightful and brimming with no-nonsense advice,
The Perfect Time to Boss Up
is the ideal book for hustlers everywhere.
Shopping Tips & Updates
COVID-19 UPDATE (July 31, 2021)
1. We are following CDC guidelines for in-person shopping. Our staff is fully vaccinated, but with Delta surging and Alabama's vaccination rate the national caboose, masks are required to enter. We are still offering curbside pickup if you prefer. Pay ahead online, select "in-store pickup," and when you receive notification that your order is ready, simply call from the 7th Street entrance: (205) 632-5331.
2. Please anticipate 3-5 business days for in-store pickup. We will let you know of any further delays, but if you need an item right away please call to see if it is in stock: (205) 632-5331.
3. Have questions about what it's like to get the vaccine? We're happy to discuss our experiences!
~~~~~~~~~~~~~~~~~~~~~~~~~~~~~~~~~~~~~~~~~~~~~
Items appearing here do not necessarily indicate what is currently in stock at Ernest & Hadley Books. The product information displayed are records of books that have been, are, or will be available.
Please call ahead if you would like to see if it is currently in-stock: (205) 632-5331, OR use this as your guide: click here
Please visit our Help/FAQs page for more helpful tips, or Important Terms & Conditions for how to use a gift card and other pertinent details about your order.
Any other questions, just ask! Happy browsing ~ Happy reading!