You are here
Back to top
The First to Lie (Hardcover)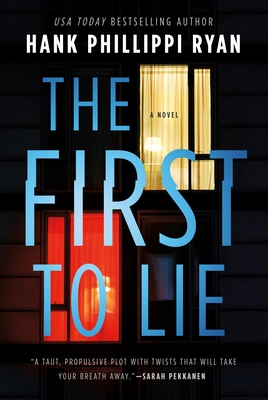 $27.99
Usually Ships in 1-5 Days
Description
---
Bestselling and award-winning author and investigative reporter Hank Phillippi Ryan delivers another twisty, thrilling cat and mouse novel of suspense that will have you guessing, and second-guessing, and then gasping with surprise.

We all have our reasons for being who we are—but what if being someone else could get you what you want?

After a devastating betrayal, a young woman sets off on an obsessive path to justice, no matter what dark family secrets are revealed. What she doesn't know—she isn't the only one plotting her revenge.

An affluent daughter of privilege. A glamorous manipulative wannabe. A determined reporter, in too deep. A grieving widow who must choose her new reality. Who will be the first to lie? And when the stakes are life and death, do a few lies really matter?
About the Author
---
USA Today bestselling author HANK PHILLIPPI RYAN has won five Agatha Awards in addition to Anthony, Macavity, Daphne du Maurier, and Mary Higgins Clark Awards. As on-air investigative reporter for Boston's WHDH-TV, she's won 36 Emmys and many more journalism honors, and her work has resulted in new laws, criminals sent to prison, homes saved from foreclosure, and millions of dollars in restitution for victims and consumers. A past president of National Sisters in Crime and founder of MWA University, her novels include Trust Me, The Murder List, the Charlotte McNally series (starting with Prime Time), and the Jane Ryland series (which begins with The Other Woman). Ryan lives in Boston with her husband, a nationally renowned civil rights and criminal defense attorney.
Praise For…
---
Praise for The First to Lie:

"Fine prose, vivid characterizations, and an uncanny ability to keep all the balls in the air... a working investigative reporter herself, Ryan skillfully explores the consequences of deception and the dangers inherent in violating journalistic ethics." —Associated Press

"Stellar...the breathlessly energetic plot touches on corporate intrigue, journalism ethics, revenge, and the corrosive nature of lies. Ryan could win a sixth Agatha with this one." —Publishers Weekly (starred review)

"Intricate, complex, and devilishly clever, THE FIRST TO LIE is like reading a burning stick of dynamite. Once the fuse is lit you will not be able to look away until the explosive end. Hank Phillippi Ryan is the modern queen of the cat and mouse tale, and this is another brilliant work from a master storyteller that will keep you guessing right to the last page." —J. T. Ellison, New York Times bestselling author

"The First to Lie is a twisty, winding road of deception and secrets that starts with a bang and ends with an explosion. Put this one on your list because Hank Phillippi Ryan is at the top of her game." —Samantha Downing, USA Today bestselling author of My Lovely Wife and He Started It

"The First to Lie is a masterfully twisty tale full of all my favorite things: interesting women, family secrets, and well-plotted revenge. Start reading early, because you will tear through the pages of this breathless, keep-you-up-all-night thriller." —Jennifer Hillier, award-winning author of Jar of Hearts and Little Secrets

"With flawless pacing and impeccable character development, Hank Phillippi Ryan delivers yet another powerful, relevant story of deceit, betrayal, and the extent to which someone will go to right the wrongs they have suffered. The First to Lie is a magnificent, intricately plotted thriller that will have you questioning everyone's motives until the stunning ending." —Samantha M. Bailey, bestselling author of Woman on the Edge

"A taut, propulsive plot with twists that will take your breath away...book clubs will gobble up The First to Lie." —Sarah Pekkanen

"From one of our top thriller writers—a chilling tale of deception and revenge. Filled with sharp insights, The First to Lie is a house of mirrors, taking us on a thrilling ride of dizzying twists and shocking revelations." —Angie Kim, national bestselling author of Miracle Creek

"A must-read for thriller lovers--the compelling and twist-filled plot fearlessly delves into the intersections of revenge and family secrets." —Vanessa Lillie, bestselling author of Little Voices and For the Best

"Ryan delivers a mystery plotting masterclass ...expert pacing, richly drawn characters, and seamless storytelling are just some of the ingredients that make this novel impossible to put down. Fabulous!" —Hannah Mary McKinnon, internationally bestselling author of Sister Dear

"Ryan masterfully escalates the suspense in this smart, twisty thriller. With jaw-dropping discoveries, The First to Lie will shock even the savviest of suspense readers. Ryan's best yet." —Heather Gudenkauf, New York Times bestselling author of The Weight of Silence


Praise for The Murder List:

"A fireworks display of a novel: exciting, explosive, relentless—and likely to leave you gasping." —A J Finn

"An exhilarating thrill ride that keeps you turning pages." —Liv Constantine

"Utterly absorbing! Ryan is a master working at the top of her game." —Riley Sager

"Twisty, complex, dishy suspense…unfailingly entertaining." —William Landay
Shopping Tips
Items appearing here do not necessarily indicate what is currently in stock at Ernest & Hadley Books. The product information displayed are records of books that have been, are, or will be available.
Please call ahead if you would like to see if it is currently in-stock: (205) 632-5331, click here OR use this as your guide:
~Look to the right of the book cover~
Items that "Usually Ship in 1-5 Days" are readily available! We either have it in stock or we may need to order it from the warehouse. Either way, we place orders twice a week so 1-5 business days is accurate! We will keep you posted on any outliers.
Items listed as "Hard to Find" or "Special Order," are likely not available. That being said, there is a possibility we have it in Used condition or an alternative edition, so please feel free to place the order. We will let you know right away if we must cancel, along with our heartfelt regrets!
Items that are "Backordered" will be delayed. Sometimes we have an exact date of when the publisher will have them ready and sometimes we do not. We will keep you in the loop, either way!
~At Checkout~
If you select In-Store Pickup (currently Curbside Pickup whilst engaged in pandemic safety measures) we will let you know as soon as your item(s) are available. At that point, we will schedule a pickup time that coincides with your essential errands.
Friends & Family Members Please select Pay In-Store, and call or email to arrange pick-up and payment.
TO USE A GIFT CARD Select Pay In-Store and include your gift card number, found on the back of the card, in the order comments.
Please visit our Help/FAQs page for more helpful tips.
Any other questions, just ask! We miss being face-to-face with our lovely customers, but are just a phone call (or email) away! Be safe, stay well, HAPPY READING!