You are here
Back to top
Me: Elton John Official Autobiography (Hardcover)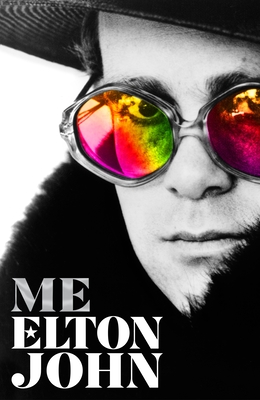 Description
---
INSTANT #1 NEW YORK TIMES BESTSELLER

In his first and only official autobiography, music icon Elton John reveals the truth about his extraordinary life, from his rollercoaster lifestyle as shown in the film Rocketman, to becoming a living legend.

Christened Reginald Dwight, he was a shy boy with Buddy Holly glasses who grew up in the London suburb of Pinner and dreamed of becoming a pop star. By the age of twenty-three he was performing his first gig in America, facing an astonished audience in his bright yellow dungarees, a star-spangled T-shirt, and boots with wings. Elton John had arrived and the music world would never be the same again.

His life has been full of drama, from the early rejection of his work with song-writing partner Bernie Taupin to spinning out of control as a chart-topping superstar; from half-heartedly trying to drown himself in his LA swimming pool to disco-dancing with Princess Diana and Queen Elizabeth; from friendships with John Lennon, Freddie Mercury, and George Michael to setting up his AIDS Foundation to conquering Broadway with Aida, The Lion King, and Billy Elliot the Musical. All the while Elton was hiding a drug addiction that would grip him for over a decade.

In Me, Elton also writes powerfully about getting clean and changing his life, about finding love with David Furnish and becoming a father. In a voice that is warm, humble, and open, this is Elton on his music and his relationships, his passions and his mistakes. This is a story that will stay with you by a living legend.
About the Author
---
Elton John's career achievements to date are unsurpassed. One of the top-selling solo artist of all time, in August 2018 he was named the most successful male solo artist in the Billboard Hot 100 chart history. Elton's many honours include two Oscars, six Grammys, thirteen Ivor Novellos and a BRIT Award.

When not recording or touring, Elton devotes his time to a number of charities, including his own Elton John AIDS Foundation, which has raised over $450 million in the global fight against HIV/AIDS. In 2019 he was awarded the Légion d'Honneur, France's highest civilian award, and in Britain was made a Companion of Honour in recognition of his services to music and charity. He is married to David Furnish, and they have two sons.
Praise For…
---
"[Me] pushes the envelope. . . . The movie Rocketman gave a reasonably accurate overview of the Elton John story—but it barely scratched the surface of what's in this memoir. The lurid parts will get all the headlines. But [it is really about] the man's hard-won self-knowledge."
—The New York Times

"Thought you got all of Elton John's story in the rollicking biopic, Rocketman? Well, consider that merely a tasty appetizer ahead of this ultra-rich and heavy dinner."
—NBC News

"Magnificent. . . . While Me is as colorful as you'd expect from an artist famous for his outlandish stage costumes and outsize temper tantrums, it is also so much more. . . . Fans who think seeing Rocketman was enough and can 'eventually' read his memoir, we can tell you: do not wait a long, long time. Me is a riveting, laugh-til-you-cry, heartfelt page-turner."
—Entertainment Weekly

"[Elton] proves himself an engrossing, fluid and alarmingly forthcoming writer. . . Like [his] songs, Me overflows with whimsical characters, twisted humor, winking self-aggrandizement and stark pathos. . . . An absorbing and unfettered joy."
—TIME

"By turn hilarious, touching, and surprising. . . . In between the countless anecdotes with stars from across the decades, John's enthusiasm for music continues to shine through. . . . It's wonderful to read [and] compelling evidence that Elton John was born to be [a star]."
—The Independent

"Outrageously enjoyable. . . . [Elton] is utterly, astonishingly, hilariously self-lacerating. . . . His clear-eyed honesty and his ear for the comic line make him a deeply appealing memoirist."
—The Guardian

"Excellent. . . . [Me] mines a rich seam of salacious and self-deprecating anecdote, heady scandal, personal struggle, and ultimate redemption, all delivered with a total lack of self-consciousness."
—The Wall Street Journal

"A uniquely revealing pop star autobiography. . . . Me is essential reading for anyone who wants to know the difficult road that [Elton has] walked."
—Rolling Stone
Shopping Tips & Updates
**PLEASE ANTICIPATE LONGER SHIPPING TIMES** We apologize for any inconvenience, but please add 1-3 business days to the "ships in 1-5 days" indicated next to available items on order. This is temporary!
Items appearing here do not necessarily indicate what is currently in stock at Ernest & Hadley Books. The product information displayed are records of books that have been, are, or will be available.
Please call ahead if you would like to see if it is currently in-stock: (205) 632-5331, click here OR use this as your guide:
~Product Details~
Items that "Usually Ship in 1-5 Days" (**see above**) are available! We either have it in stock or we may need to order it from the warehouse. Either way, we place orders twice a week so 1-5 business days is generally accurate. We will keep you posted on any outliers, especially during Covidia.
Items listed as "Hard to Find" or "Special Order," are likely not available. That being said, there is a possibility we have it in Used condition or an alternative edition. Please call the store to inquire and/or complete your order, (205) 632-5331, or email avery@ernestandhadleybooks.com.
"Backordered" books may be available, just not right away. Please call the store to inquire and/or complete your order, (205) 632-5331, or email avery@ernestandhadleybooks.com.
If you are purchasing a lot of items, please be aware that there may be delays, or they may arrive at different times. If any books are "Pre-Orders" please put those in a separate order, if at all possible. Much appreciated!
~At Checkout~
If you select In-Store Pickup, we will let you know as soon as your item(s) are available and waiting on our Contactless Cart, located just inside and behind the front door. Our current hours are Monday through Friday, 9:30 AM to 5:30 PM, Saturday from 9:30 AM to 4:30 PM, closed Sunday. Masks are still required to enter. If you'd prefer curbside pickup, please call from the front curb during business hours: (205) 632-5331.
Friends & Family Members Please mention membership in the order comments. New total will be calculated after you submit the order but before payment is processed.
TO USE A GIFT CARD Select Pay In-Store and In-Store Pickup (even if you need your order shipped), and include your gift card number on the back of the card in the order comments, along with your mailing address, if applicable. If your gift card will not cover the total with shipping (standard shipping is $2.50 + $2.00 per item) or you'd like to check your balance, please call (205) 632-5331 or email avery@ernestandhadleybooks.com.
Having trouble completing the order? Please leave your items in your cart and call (205) 632-5331 to finish your order over the phone.
Please visit our Help/FAQs page for more helpful tips.
Any other questions, just ask! We miss being face-to-face with our lovely customers, but are just a phone call (or email) away! Be safe, stay well, HAPPY READING!