You are here
Back to top
Marking Graves in Tuscaloosa County, Alabama: The Musings of a Teacher (Paperback)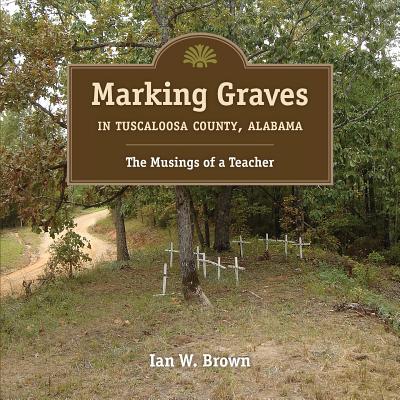 $30.92
Email or call for price
Description
---
He sends his students out into the cemeteries "armed with very specific research questions." To whom are they asking these questions? The living? On many occasions I have heard Ian insist that cemeteries are indeed for the living, that those elaborate burial rituals and markings are our meager attempts to hold back the broad, merciless, and unending river of time. We erect headstones and we leave flowers--a universal yet odd desire to impart beauty and life to the cold and inert. Alongside the flowers we seem increasingly to be leaving such everyday objects as footballs and Bama memorabilia, Christmas boxes, and figurines (mostly angels). What are these mementoes saying? But perhaps Ian wants his students to direct their questions to the dead...by first looking closely at those who came before and then asking the right questions, we ourselves will be changed... By learning about them, we learn from them. We gain insight into the human condition.
--from the Preface by G. Ward Hubbs
Shopping Tips & Updates
COVID-19 UPDATE (July 31, 2021)
1. We are following CDC guidelines for in-person shopping. Our staff is fully vaccinated, but with Delta surging and Alabama's vaccination rate the national caboose, masks are required to enter. We are still offering curbside pickup if you prefer. Pay ahead online, select "in-store pickup," and when you receive notification that your order is ready, simply call from the 7th Street entrance: (205) 632-5331.
2. Please anticipate 3-5 business days for in-store pickup. We will let you know of any further delays, but if you need an item right away please call to see if it is in stock: (205) 632-5331.
3. Have questions about what it's like to get the vaccine? We're happy to discuss our experiences!
~~~~~~~~~~~~~~~~~~~~~~~~~~~~~~~~~~~~~~~~~~~~~
Items appearing here do not necessarily indicate what is currently in stock at Ernest & Hadley Books. The product information displayed are records of books that have been, are, or will be available.
Please call ahead if you would like to see if it is currently in-stock: (205) 632-5331, OR use this as your guide: click here
Please visit our Help/FAQs page for more helpful tips, or Important Terms & Conditions for how to use a gift card and other pertinent details about your order.
Any other questions, just ask! Happy browsing ~ Happy reading!