You are here
Back to top
He Needed Killing Too (Paperback)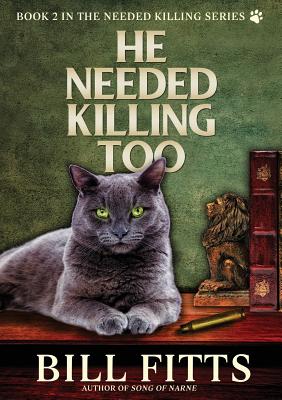 $17.79
Email or call for price
Description
---
When James F. Crawford retired from the university he didn't expect to become a private investigator. But Provost Rufus George wanted Crawford to investigate a suspicious death--and he wouldn't take no for an answer. Turns out, Crawford has a knack for solving crimes. With his dog and cat as the perfect sounding board, he talks through the specifics of each case--posing questions to Tan and The Black and answering them himself. If you like your mysteries with a side of humor, give the Needed Killing Series a try.
The director of the University Press was often characterized as a man who needed killing. The Press's authors and employees certainly wouldn't disagree--even Peter the Gray, the office cat, detested him. So when someone puts a bullet through Philip Douglas's head, Crawford has plenty of suspects to consider when he is once again thrust into the role of detective.
Shopping Tips & Updates
COVID-19 UPDATE (July 31, 2021)
1. We are following CDC guidelines for in-person shopping. Our staff is fully vaccinated, but with Delta surging and Alabama's vaccination rate the national caboose, masks are required to enter. We are still offering curbside pickup if you prefer. Pay ahead online, select "in-store pickup," and when you receive notification that your order is ready, simply call from the 7th Street entrance: (205) 632-5331.
2. Please anticipate 3-5 business days for in-store pickup. We will let you know of any further delays, but if you need an item right away please call to see if it is in stock: (205) 632-5331.
3. Have questions about what it's like to get the vaccine? We're happy to discuss our experiences!
~~~~~~~~~~~~~~~~~~~~~~~~~~~~~~~~~~~~~~~~~~~~~
Items appearing here do not necessarily indicate what is currently in stock at Ernest & Hadley Books. The product information displayed are records of books that have been, are, or will be available.
Please call ahead if you would like to see if it is currently in-stock: (205) 632-5331, OR use this as your guide: click here
Please visit our Help/FAQs page for more helpful tips, or Important Terms & Conditions for how to use a gift card and other pertinent details about your order.
Any other questions, just ask! Happy browsing ~ Happy reading!