You are here
Back to top
Once Upon a Time in the Twenty-First Century: Unexpected Exercises in Creative Writing (Abridged / Paperback)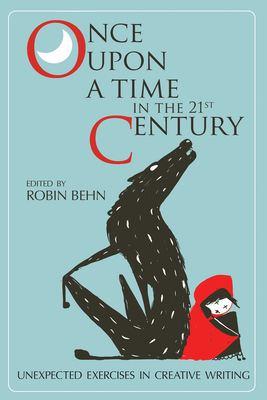 $24.95
Usually Ships in 1-5 Days
Description
---
Fun and innovative exercises and prompts for creative writing students
 
Once Upon a Time in the Twenty-First Century: Unexpected Exercises in Creative Writing is a unique creative writing text that will appeal to a wide range of readers and writers—from grade nine through college and beyond. Successful creative writers from numerous genres constructed these exercises, including poetry, fiction, and creative nonfiction to one-act plays, song lyrics, genre fiction, travel guides, comics and beyond. The exercises use a broad range of creative approaches, aesthetics, and voices, all with an emphasis on demystifying the writing process and having fun.
 
Editor Robin Behn has divided the book into three writing sections: Genres and Forms, Sources and Methods, and Style and Subject. In each section, Behn offers a brief introduction which explains how to get started and specific ways to develop one's writing. Each introduction is followed by extensive exercises that draw on literature from classic to contemporary, as well as other art forms and popular culture. Examples range from Flannery O'Connor and Langston Hughes to Allen Ginsberg and Gertrude Stein, from Jamaica Kincaid and James Joyce to Arlo Guthrie and Harryette Mullen. Integrated within the exercises are apt examples of student writings that have emerged from actual use of the exercises in both the classroom and in writing groups. The book concludes with general advice and direction on how to get published.
 
Based on years of hands-on experiences in the teaching of creative writing in high schools, colleges, and after-school writing clubs, this volume of exercises offers inestimable value to students and teachers in the traditional classroom, as well as a growing number of homeschoolers, those who are part of a writing club or group, and independent writers and learners of all ages.
 
About the Author
---
Robin Behn, is professor of English and teaches in the MFA Program in Creative Writing at The University of Alabama. She is the author of five volumes of poems, Quarry Cross, The Yellow House, Horizon Note, The Red Hour, and Paper Bird, and two chapbooks. She is co-editor of The Practice of Poetry: Writing Exercises from Poets Who Teach.
 
Praise For…
---
"Over the last 20 years of conducting the New England Young Writers' Conference I've had many requests by high school English and writing teachers for a list of creative writing resources for instructing their students. Robin Behn's volume, Once Upon a Time in the Twenty-First Century: Unexpected Exercises in Creative Writing, now sits at the top of that list. This book is a rich collection of unique and expansive prompts coupled with instruction and technique. Each section gives stimulating guidance, exploring method, genre and form that is creatively motivating. It's ideal for both the teacher and the middle or high school student interested in creative writing; I'm excited to have this resource at my fingertips."
—Karla Van Vliet, poet, artist, administrator of the New England Young Writers' Conference
 

"Let us arrange the letters of the alphabet to say: this book is terrific. Its adventurous approach to creative writing will entice even the most reluctant writers and offer fresh inspiration to students who already love to write. From crafting sestinas to casting spells, these exercises offer clear steps to creating new written works of art in unique and fun ways. Explode your poem! Use an online translator to say something that's never been said! Write a story one word at a time with a partner! We know these ideas and the dozens more in this book, along with methods of exploring style and even advice on getting started with publication, will energize and encourage writing students of all ages. We're thrilled to add this volume to our library."
— Roxanne Banks Malia and Kimberly O'Connor, Lighthouse Young Writers Program Co-Directors
 
Shopping Tips & Updates
COVID-19 UPDATES:
1. Please anticipate 3-5 business days for in-store pickup. We will let you know of any further delays, but if you need an item right away please call to see if it is in stock: (205) 632-5331.
2. Masks are required to enter the showroom and we are still offering curbside pickup if that is preferable. Select "in-store pickup," and when you receive notification that your order is ready, simply call from the curb out front and we will run it to you!
3. We are not accepting book drop-offs for store credit or donation (we never offer cash). We may re-evaluate after Nov. 8, 2020 when the state-wide mandate is expected to end. TBD. Thank you for understanding and continuing to do your part to stop the spread of the novel coronavirus.
~~~~~~~~~~~~~~~~~~~~~~~~~~~~~~~~~~~~~~~~~~~~~
Items appearing here do not necessarily indicate what is currently in stock at Ernest & Hadley Books. The product information displayed are records of books that have been, are, or will be available.
Please call ahead if you would like to see if it is currently in-stock: (205) 632-5331, click here OR use this as your guide:
~Product Details~
Items that "Usually Ship in 1-5 Days" are available! We either have it in stock or we may need to order it from the warehouse. Either way, we place orders twice a week so 1-5 business days is generally accurate. We will keep you posted on any outliers, especially during Covidia.
Items listed as "Hard to Find" or "Special Order," are likely not available. That being said, there is a possibility we have it in Used condition or an alternative edition. Please call the store to inquire and/or complete your order, (205) 632-5331, or email avery@ernestandhadleybooks.com.
"Backordered" books may be available, just not right away. Please call the store to inquire and/or complete your order, (205) 632-5331, or email avery@ernestandhadleybooks.com.
If you are purchasing a lot of items, please be aware that there may be delays, or they may arrive at different times. If any books are "Pre-Orders" please put those in a separate order, if at all possible. Much appreciated!
~At Checkout~
If you select In-Store Pickup, we will let you know as soon as your item(s) are available and waiting on our Contactless Cart, located just inside and behind the front door. Our current hours are Monday through Friday, 9:30 AM to 5:30 PM, Saturday from 9:30 AM to 4:30 PM, closed Sunday. Masks are still required to enter. If you'd prefer curbside pickup, please call from the front curb during business hours: (205) 632-5331.
Friends & Family Members Please mention membership in the order comments. New total will be calculated after you submit the order but before payment is processed.
TO USE A GIFT CARD Select Pay In-Store and In-Store Pickup (even if you need your order shipped), and include your gift card number on the back of the card in the order comments, along with your mailing address, if applicable. If your gift card will not cover the total with shipping (standard shipping is $2.50 + $2.00 per item) or you'd like to check your balance, please call (205) 632-5331 or email avery@ernestandhadleybooks.com.
Having trouble completing the order? Please leave your items in your cart and call (205) 632-5331 to finish your order over the phone.
Please visit our Help/FAQs page for more helpful tips.
Any other questions, just ask! We miss being face-to-face with our lovely customers, but are just a phone call (or email) away! Be safe, stay well, HAPPY READING!