You are here
Back to top
The World through the Dime Store Door: A Memoir (Hardcover)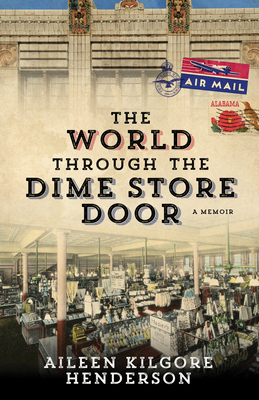 $24.95
Usually Ships in 1-5 Days
Description
---
A coming-of-age memoir evoking farm, mining, and small-town life in Alabama's Tuscaloosa County as the world transitions from the Great Depression to World War II
 
In the 1930s, the rural South was in the throes of the Great Depression. Farm life was monotonous and hard, but a timid yet curious teenager thought it worth recording. Aileen Kilgore Henderson kept a chronicle of her family's daily struggles in Tuscaloosa County alongside events in the wider world she gleaned from shortwave radio and the occasional newspaper. She wrote about Howard Hughes's round-the-world flight and her horror at the rise to power in Germany of a bizarre politician named Adolf Hitler. Henderson longed to join the vast world beyond the farm, but feared leaving the refuge of her family and beloved animals.
 
 Yet, with her father's encouragement, she did leave, becoming a clerk in the Kress dime store in downtown Tuscaloosa. Despite long workdays and a lengthy bus commute, she continued to record her observations and experiences in her diary, for every day at the dime store was interesting and exciting for an observant young woman who found herself considering new ideas and different points of view.
 
 Drawing on her diary entries from the 1930s and early 1940s, Henderson recollects a time of sweeping change for Tuscaloosa and the South. The World through the Dime Store Door is a personal and engaging account of a Southern town and its environs in transition told through the eyes of a poor young woman with only a high school education but gifted with a lively mind and an openness to life.
 
About the Author
---
Aileen Kilgore Henderson has published eight books including Tenderfoot Teacher: Letters from the Big Bend, 1952–1954. At 99 years old, she continues to write at her home in the deep woods of Tuscaloosa County.
 
Praise For…
---
"Balancing the personal with the cultural, Henderson does a fine job of evoking farm, mining, and small-town life of the 1920s, 1930s, and 1940s while charting the education and emotional growth of a girl who is hungry for knowledge and eager to experience the wider world. I found Henderson's story to be an engaging, well-told, and pleasing coming-of-age memoir."
—Jennifer Horne, poet laureate of Alabama and author of Tell the World You're a Wildflower: Stories and the poetry collections Bottle Tree, Little Wanderer, and Borrowed Light

"Dimestore is richer and more detailed than would be possible if relying entirely on memory. This short and pleasant book tells the story of one little girl in Tuscaloosa County, but also gives the reader a pretty vivid first-hand account of life here 90 years ago. Some of it is surprising."
—Don Noble, The Tuscaloosa News

 

"Born in 1921, author Aileen Kilgore Henderson was young when she '. . . realized that writing was a way to hold onto the magic of life.' At age nine she began capturing this magic by writing down her life's memorable happenings, remembrances that beautifully come together in her new book, The World through the Dime Store Door. Written in Henderson's always gentle voice, this truly wonderful memoir is one to read, relish, and savor. I loved it!"
—Ann Dorer, author of Mother Makes a Mistake and former editor of Southern Lady magazine

 

"When an airplane ran short of gasoline and landed in a field in Cedar Cove, Alabama in 1929, it delivered the outside world to nine-year-old Aileen. The aviators stayed with her family for several days until her father could scrape up money to get them back on their way. Following their departure, Aileen journaled the experience. 'It was then I realized writing was a way to hold onto the magic of life," she says, "to keep wonderful events forever. At age nine I decided I had to become a writer.'

Aileen Kilgore Henderson, adventurer, Women's Army Corps veteran, teacher, and ultimately, wife and mother, did indeed grow up to become a national, multi-award winning author. Now ninety-nine years old, Aileen is one of Alabama's true state treasures and her many writing accomplishments are listed in the Encyclopedia of Alabama. The World through the Dime Store Door is a memoir beginning in her self-described 'Paradise,' the tiny coal mining community of Cedar Cove, and ending with her airplane mechanic service during World War II and her return to college on the GI bill. Her late adolescence and early adult years were spent as an employee of Kress, a popular Tuscaloosa five-and-dime store. While the world inside Kress offered her practical skills and a cocoon from which she could ultimately fly, it is the world at large that comes sharply into focus within the pages of this book. Here is a first-hand account of poverty, but never poverty of love, humor, nor spirit of the Great Depression, segregation, the radio experiences of War of the Worlds and Howard Hughes' flight, and of daily life as the cloud of World War II hung heavy over the head of our nation. Her fascinating story also provides a shining example of how one should never compromise ambitions and dreams, regardless of the behaviors and judgments of others."

—Carolyn Breckinridge (Ezell), author of Tuscaloosa Moon and Kaleidoscope Jane & Other Stories
 
Shopping Tips & Updates
COVID-19 UPDATES:
1. Please anticipate 3-5 business days for in-store pickup. We will let you know of any further delays, but if you need an item right away please call to see if it is in stock: (205) 632-5331.
2. Masks are required to enter the showroom and we are still offering curbside pickup if that is preferable. Select "in-store pickup," and when you receive notification that your order is ready, simply call from the curb out front and we will run it to you!
3. We are not accepting book drop-offs for store credit or donation (we never offer cash). We may re-evaluate after Nov. 8, 2020 when the state-wide mandate is expected to end. TBD. Thank you for understanding and continuing to do your part to stop the spread of the novel coronavirus.
~~~~~~~~~~~~~~~~~~~~~~~~~~~~~~~~~~~~~~~~~~~~~
Items appearing here do not necessarily indicate what is currently in stock at Ernest & Hadley Books. The product information displayed are records of books that have been, are, or will be available.
Please call ahead if you would like to see if it is currently in-stock: (205) 632-5331, click here OR use this as your guide:
~Product Details~
Items that "Usually Ship in 1-5 Days" are available! We either have it in stock or we may need to order it from the warehouse. Either way, we place orders twice a week so 1-5 business days is generally accurate. We will keep you posted on any outliers, especially during Covidia.
Items listed as "Hard to Find" or "Special Order," are likely not available. That being said, there is a possibility we have it in Used condition or an alternative edition. Please call the store to inquire and/or complete your order, (205) 632-5331, or email avery@ernestandhadleybooks.com.
"Backordered" books may be available, just not right away. Please call the store to inquire and/or complete your order, (205) 632-5331, or email avery@ernestandhadleybooks.com.
If you are purchasing a lot of items, please be aware that there may be delays, or they may arrive at different times. If any books are "Pre-Orders" please put those in a separate order, if at all possible. Much appreciated!
~At Checkout~
If you select In-Store Pickup, we will let you know as soon as your item(s) are available and waiting on our Contactless Cart, located just inside and behind the front door. Our current hours are Monday through Friday, 9:30 AM to 5:30 PM, Saturday from 9:30 AM to 4:30 PM, closed Sunday. Masks are still required to enter. If you'd prefer curbside pickup, please call from the front curb during business hours: (205) 632-5331.
Friends & Family Members Please mention membership in the order comments. New total will be calculated after you submit the order but before payment is processed.
TO USE A GIFT CARD Select Pay In-Store and In-Store Pickup (even if you need your order shipped), and include your gift card number on the back of the card in the order comments, along with your mailing address, if applicable. If your gift card will not cover the total with shipping (standard shipping is $2.50 + $2.00 per item) or you'd like to check your balance, please call (205) 632-5331 or email avery@ernestandhadleybooks.com.
Having trouble completing the order? Please leave your items in your cart and call (205) 632-5331 to finish your order over the phone.
Please visit our Help/FAQs page for more helpful tips.
Any other questions, just ask! We miss being face-to-face with our lovely customers, but are just a phone call (or email) away! Be safe, stay well, HAPPY READING!