You are here
Back to top
Once Upon a Wardrobe (Hardcover)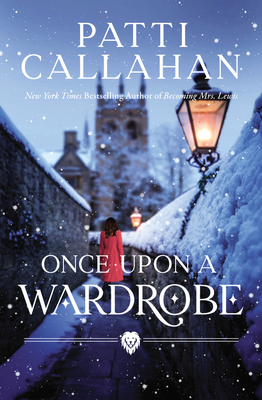 $24.99

Usually Ships in 1-5 Days
November 2021 Indie Next List
---
"About the transformative power of books, with touches of fairy tale magic, Once Upon a Wardrobe is for everyone who ever loved The Chronicles of Narnia and wants to make a return trip back into C.S. Lewis' world."
— Taylor Owens, Wilson Book Gallery, Wilson, WY
Description
---
When college student Megs approaches author C. S. Lewis with her younger brother's request to find out if Narnia is real, he instead takes her on a magical journey through the moments in his life that led to his greatest creation.
Megs Devonshire, on a scholarship at Oxford, is brilliant with numbers and equations. She prefers the dependability of facts--except for one: the brother she loves with all her heart doesn't have long to live. When George becomes captivated by a brand-new book called The Lion, the Witch and the Wardrobe and begs her to find out where Narnia came from, there's no way she can refuse.
Despite her timidity about approaching the famous author, who is a professor at her school, Megs soon finds herself taking tea with the Oxford don and his own brother, begging them for answers. What she receives instead are stories . . . little-known tales from different periods in Mr. Lewis's life, which she takes home to George.
Why won't Mr. Lewis just tell her plainly what George wants to know? The answer will reveal to Meg many truths that science and math cannot, and the gift she thought she was giving to her brother--the story behind Narnia--turns out to be his gift to her, instead: hope.
Praise for Once Upon a Wardrobe:
"I advise you to read this book, then wait for a while and then read it again, for while it may not be Narnia, there is magic in it." --Douglas Gresham, C. S. Lewis's stepson
"With a touch of fairy-tale magic, Once Upon a Wardrobe will take you behind the legend and deep into the English and Irish countryside, where you'll encounter not only the inspirations for one of the 20th century's most beloved works, but also a tale of heartache, hope, and discovery that will forever change the Narnia you thought you knew." --Kristin Harmel, New York Times bestselling author
A marvelous blend of little-known true stories from C. S. Lewis's life that Narnia fans will treasure
Includes discussion questions for book clubs as well as a note from Douglas Gresham, C. S. Lewis's stepson
Also by New York Times bestselling author Patti Callahan: Becoming Mrs. Lewis and Surviving Savannah
Shopping Tips & Updates
COVID-19 UPDATE (July 31, 2021)
1. We are following CDC guidelines for in-person shopping. Our staff is fully vaccinated, but with Delta surging and Alabama's vaccination rate the national caboose, masks are required to enter. We are still offering curbside pickup if you prefer. Pay ahead online, select "in-store pickup," and when you receive notification that your order is ready, simply call from the 7th Street entrance: (205) 632-5331.
2. Please anticipate 3-5 business days for in-store pickup. We will let you know of any further delays, but if you need an item right away please call to see if it is in stock: (205) 632-5331.
3. Have questions about what it's like to get the vaccine? We're happy to discuss our experiences!
~~~~~~~~~~~~~~~~~~~~~~~~~~~~~~~~~~~~~~~~~~~~~
Items appearing here do not necessarily indicate what is currently in stock at Ernest & Hadley Books. The product information displayed are records of books that have been, are, or will be available.
Please call ahead if you would like to see if it is currently in-stock: (205) 632-5331, OR use this as your guide: click here
Please visit our Help/FAQs page for more helpful tips, or Important Terms & Conditions for how to use a gift card and other pertinent details about your order.
Any other questions, just ask! Happy browsing ~ Happy reading!