You are here
Back to top
What to Expect When You're Expecting (Paperback)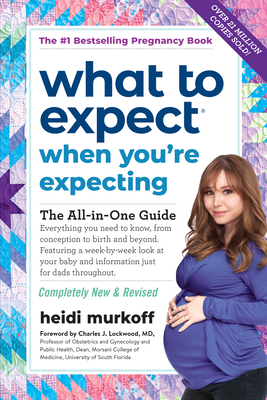 $17.95
Email or call for price
Description
---
America's pregnancy bible answers all your baby questions.
When can I take home a pregnancy test?
How can I eat for two if I'm too queasy to eat for one?
Can I keep up my spinning classes?
Is fish safe to eat? And what's this I hear about soft cheese?
Can I work until I deliver? What are my rights on the job?
I'm blotchy and broken out—where's the glow?
Should we do a gender reveal? What about a 4-D ultrasound?
Will I know labor when I feel it?
Your pregnancy explained and your pregnant body demystified, head (what to do about those headaches) to feet (why they're so swollen), back (how to stop it from aching) to front (why you can't tell a baby by mom's bump). Filled with must-have information, practical advice, realistic insight, easy-to-use tips, and lots of reassurance, you'll also find the very latest on prenatal screenings, which medications are safe, and the most current birthing options—from water birth to gentle c-sections. Your pregnancy lifestyle gets equal attention, too: eating (including food trends) to coffee drinking, working out (and work) to sex, travel to beauty, skin care, and more. Have pregnancy symptoms? You will—and you'll find solutions for them all. Expecting multiples? There's a chapter for you. Expecting to become a dad? This book has you covered, too.  
About the Author
---
Heidi Murkoff is the author of the What to Expect® series of pregnancy and parenting books with over 38 million copies in print. She is also the creator of WhatToExpect.com and the WhatToExpect app, which reach over 18 million expecting and new parents, and the What to Expect Foundation, a nonprofit organization dedicated to helping at-risk moms around the world expect healthier pregnancies, safer deliveries, and healthy, happy babies.
Shopping Tips & Updates
COVID-19 UPDATE (July 31, 2021)
1. We are following CDC guidelines for in-person shopping. Our staff is fully vaccinated, but with Delta surging and Alabama's vaccination rate the national caboose, masks are required to enter. We are still offering curbside pickup if you prefer. Pay ahead online, select "in-store pickup," and when you receive notification that your order is ready, simply call from the 7th Street entrance: (205) 632-5331.
2. Please anticipate 3-5 business days for in-store pickup. We will let you know of any further delays, but if you need an item right away please call to see if it is in stock: (205) 632-5331.
3. Have questions about what it's like to get the vaccine? We're happy to discuss our experiences!
~~~~~~~~~~~~~~~~~~~~~~~~~~~~~~~~~~~~~~~~~~~~~
Items appearing here do not necessarily indicate what is currently in stock at Ernest & Hadley Books. The product information displayed are records of books that have been, are, or will be available.
Please call ahead if you would like to see if it is currently in-stock: (205) 632-5331, OR use this as your guide: click here
Please visit our Help/FAQs page for more helpful tips, or Important Terms & Conditions for how to use a gift card and other pertinent details about your order.
Any other questions, just ask! Happy browsing ~ Happy reading!