You are here
Back to top
How to Be an Antiracist (Hardcover)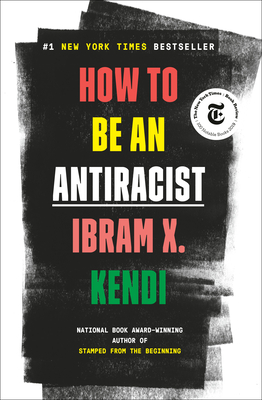 Description
---
#1 NEW YORK TIMES BESTSELLER • From the National Book Award–winning author of Stamped from the Beginning comes a "groundbreaking" (Time) approach to understanding and uprooting racism and inequality in our society—and in ourselves.

"The most courageous book to date on the problem of race in the Western mind."—The New York Times

NAMED ONE OF THE BEST BOOKS OF THE YEAR BY The New York Times Book Review • Time • NPR • The Washington Post • Shelf Awareness • Library Journal • Publishers Weekly • Kirkus Reviews

Antiracism is a transformative concept that reorients and reenergizes the conversation about racism—and, even more fundamentally, points us toward liberating new ways of thinking about ourselves and each other. At its core, racism is a powerful system that creates false hierarchies of human value; its warped logic extends beyond race, from the way we regard people of different ethnicities or skin colors to the way we treat people of different sexes, gender identities, and body types. Racism intersects with class and culture and geography and even changes the way we see and value ourselves. In How to Be an Antiracist, Kendi takes readers through a widening circle of antiracist ideas—from the most basic concepts to visionary possibilities—that will help readers see all forms of racism clearly, understand their poisonous consequences, and work to oppose them in our systems and in ourselves.

Kendi weaves an electrifying combination of ethics, history, law, and science with his own personal story of awakening to antiracism. This is an essential work for anyone who wants to go beyond the awareness of racism to the next step: contributing to the formation of a just and equitable society.

Praise for How to Be an Antiracist

"Ibram X. Kendi's new book, How to Be an Antiracist, couldn't come at a better time. . . . Kendi has gifted us with a book that is not only an essential instruction manual but also a memoir of the author's own path from anti-black racism to anti-white racism and, finally, to antiracism. . . .  How to Be an Antiracist gives us a clear and compelling way to approach, as Kendi puts it in his introduction, 'the basic struggle we're all in, the struggle to be fully human and to see that others are fully human.' "—NPR

"Kendi dissects why in a society where so few people consider themselves to be racist the divisions and inequalities of racism remain so prevalent. How to Be an Antiracist punctures the myths of a post-racial America, examining what racism really is—and what we should do about it."—Time
About the Author
---
Ibram X. Kendi is a #1 New York Times bestselling author, the Andrew W. Mellon Professor in the Humanities at Boston University, and the founding director of the Boston University Center for Antiracist Research. He is a contributing writer at The Atlantic and a CBS News correspondent. He is the author of five books including Stamped from the Beginning: The Definitive History of Racist Ideas in America, which won the National Book Award for Nonfiction; How to Be an Antiracist; Stamped: Racism, Antiracism, and You, co-authored with Jason Reynolds; and Antiracist Baby, illustrated by Ashley Lukashevsky.
Praise For…
---
"What do you do after you have written Stamped From the Beginning, an award-winning history of racist ideas? . . . If you're Ibram X. Kendi, you craft another stunner of a book. . . . What emerges from these insights is the most courageous book to date on the problem of race in the Western mind, a confessional of self-examination that may, in fact, be our best chance to free ourselves from our national nightmare."—The New York Times

"Ibram Kendi is today's visionary in the enduring struggle for racial justice. In this personal and revelatory new work, he yet again holds up a transformative lens, challenging both mainstream and antiracist orthodoxy. He illuminates the foundations of racism in revolutionary new ways, and I am consistently challenged and inspired by his analysis. How to Be an Antiracist offers us a necessary and critical way forward."—Robin DiAngelo, New York Times bestselling author of White Fragility
 
"Ibram Kendi's work, through both his books and the Antiracist Research and Policy Center, is vital in today's sociopolitical climate. As a society, we need to start treating antiracism as action, not emotion—and Kendi is helping us do that."—Ijeoma Oluo, author of So You Want to Talk About Race
 
"Ibrahim Kendi uses his own life journey to show us why becoming an antiracist is as essential as it is difficult. Equal parts memoir, history, and social commentary, this book is honest, brave, and most of all liberating."—James Forman, Jr., Pulitzer Prize-winning author of Locking Up Our Own
 
"A boldly articulated, historically informed explanation of what exactly racist ideas and thinking are . . . [Kendi's] prose is thoughtful, sincere, and polished. This powerful book will spark many conversations."—Publishers Weekly (starred review)

"A combination of memoir and extension of [Kendi's] towering Stamped from the Beginning . . . Never wavering . . . Kendi methodically examines racism through numerous lenses: power, biology, ethnicity, body, culture, and so forth. . . . This unsparing honesty helps readers, both white and people of color, navigate this difficult intellectual territory. . . . Essential."—Kirkus Reviews (starred review)

"In this sharp blend of social commentary and memoir . . . Kendi is ready to spread his message, his stories serving as a springboard for potent explorations of race, gender, colorism, and more. . . . With Stamped From the Beginning, Kendi proved himself a first-rate historian. Here, his willingness to turn the lens on himself marks him as a courageous activist, leading the way to a more equitable society."—Library Journal (starred review)
Shopping Tips & Updates
**PLEASE ANTICIPATE LONGER SHIPPING TIMES** We apologize for any inconvenience, but please add 1-3 business days to the "ships in 1-5 days" indicated next to available items on order. This is temporary!
Items appearing here do not necessarily indicate what is currently in stock at Ernest & Hadley Books. The product information displayed are records of books that have been, are, or will be available.
Please call ahead if you would like to see if it is currently in-stock: (205) 632-5331, click here OR use this as your guide:
~Product Details~
Items that "Usually Ship in 1-5 Days" (**see above**) are available! We either have it in stock or we may need to order it from the warehouse. Either way, we place orders twice a week so 1-5 business days is generally accurate. We will keep you posted on any outliers, especially during Covidia.
Items listed as "Hard to Find" or "Special Order," are likely not available. That being said, there is a possibility we have it in Used condition or an alternative edition. Please call the store to inquire and/or complete your order, (205) 632-5331, or email avery@ernestandhadleybooks.com.
"Backordered" books may be available, just not right away. Please call the store to inquire and/or complete your order, (205) 632-5331, or email avery@ernestandhadleybooks.com.
If you are purchasing a lot of items, please be aware that there may be delays, or they may arrive at different times. If any books are "Pre-Orders" please put those in a separate order, if at all possible. Much appreciated!
~At Checkout~
If you select In-Store Pickup, we will let you know as soon as your item(s) are available and waiting on our Contactless Cart, located just inside and behind the front door. Our current hours are Monday through Friday, 9:30 AM to 5:30 PM, Saturday from 9:30 AM to 4:30 PM, closed Sunday. Masks are still required to enter. If you'd prefer curbside pickup, please call from the front curb during business hours: (205) 632-5331.
Friends & Family Members Please mention membership in the order comments. New total will be calculated after you submit the order but before payment is processed.
TO USE A GIFT CARD Select Pay In-Store and In-Store Pickup (even if you need your order shipped), and include your gift card number on the back of the card in the order comments, along with your mailing address, if applicable. If your gift card will not cover the total with shipping (standard shipping is $2.50 + $2.00 per item) or you'd like to check your balance, please call (205) 632-5331 or email avery@ernestandhadleybooks.com.
Having trouble completing the order? Please leave your items in your cart and call (205) 632-5331 to finish your order over the phone.
Please visit our Help/FAQs page for more helpful tips.
Any other questions, just ask! We miss being face-to-face with our lovely customers, but are just a phone call (or email) away! Be safe, stay well, HAPPY READING!