You are here
Back to top
Traditional Arts and Crafts of Japan (Paperback)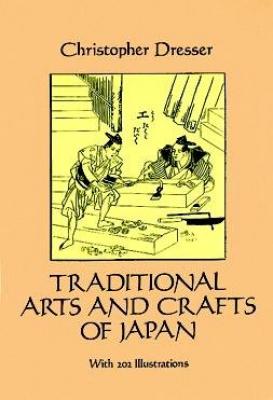 $12.95
Email or call for price
Description
---
An extremely important English Victorian commercial and industrial designer, Christopher Dresser (1834-1904) traveled at length in nineteenth-century Japan. His excursions resulted in this excellent introduction to Japanese arts and crafts, one of the finest and most authoritative volumes of its kind. It offers unsurpassed coverage of architecture, ornament, pottery, calligraphy, drawing, lacquerware, metalware, textiles, religious symbols and more.
Readers will find themselves immersed in a tour of many great centers of traditional Japanese culture, from Yokohama to Kobe, Kyoto to Osaka. In the course of the journey, Dresser relates in fascinating detail many aspects of Japanese life, including descriptions of Japanese dancing girls, the custom of hara-kiri, the Mikado's antiquities, the tea-drinking ceremony, Japanese vegetation, and the splendor of Japanese shrines and scenery. Over 200 exquisitely drawn illustrations add to the appeal of this classic work, an indispensable resource for art and antique collectors, arts and crafts enthusiasts, art historians, and social scientists.
Shopping Tips & Updates
COVID-19 UPDATE (July 31, 2021)
1. We are following CDC guidelines for in-person shopping. Our staff is fully vaccinated, but with Delta surging and Alabama's vaccination rate the national caboose, masks are required to enter. We are still offering curbside pickup if you prefer. Pay ahead online, select "in-store pickup," and when you receive notification that your order is ready, simply call from the 7th Street entrance: (205) 632-5331.
2. Please anticipate 3-5 business days for in-store pickup. We will let you know of any further delays, but if you need an item right away please call to see if it is in stock: (205) 632-5331.
3. Have questions about what it's like to get the vaccine? We're happy to discuss our experiences!
~~~~~~~~~~~~~~~~~~~~~~~~~~~~~~~~~~~~~~~~~~~~~
Items appearing here do not necessarily indicate what is currently in stock at Ernest & Hadley Books. The product information displayed are records of books that have been, are, or will be available.
Please call ahead if you would like to see if it is currently in-stock: (205) 632-5331, OR use this as your guide: click here
Please visit our Help/FAQs page for more helpful tips, or Important Terms & Conditions for how to use a gift card and other pertinent details about your order.
Any other questions, just ask! Happy browsing ~ Happy reading!