You are here
Back to top
Twelve and a Half: Leveraging the Emotional Ingredients Necessary for Business Success (Hardcover)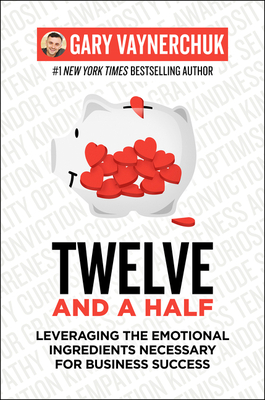 $29.99

Usually Ships in 1-5 Days
Description
---
In his sixth business book, bestselling author, entrepreneur, and investor Gary Vaynerchuk explores the twelve essential emotional skills that are integral to his life—and business—success and provides today's (and tomorrow's) leaders with critical tools to acquire and develop these traits.
For decades, leaders have relied on "hard" skills to make smart decisions, while dismissing the importance of emotional intelligence. Soft skills like self-awareness and curiosity aren't quantifiable; they can't be measured on a spreadsheet and aren't taught in B-schools or emphasized in institutions. We've been taught that emotional intelligence is a "nice to have" in business, not a requirement. But soft skills can actually accelerate business success, Gary Vaynerchuk argues. For analytical minds, it's challenging to understand how to get "better" at being self-aware, curious, or empathetic—or even why it's important to try. 
In this wise and practical book, Gary explores the 12 human ingredients that have led to his success and happiness and provides exercises to help you develop these traits yourself. He also shares what the "half" is—that emotional ingredient of leadership he's weakest at and makes the most effort to improve. Working through the ideas and exercises in the book, he teaches you how to discover your own "halves" and offers insight on how to strengthen them. 
Gary's secret to success is using these twelve traits in varying mixtures, depending on the situation. But how do we know when to balance patience with ambition? Humility with conviction? Gary provides real-life examples involving common business scenarios to show you how to use them together for optimum results. 
This iconoclastic book will help you refine your ingredients and improve your leadership capabilities. When implemented in the proper situation, these ingredients can help leaders land promotions, retain core employees, move faster than competitors, win the loyalty of customers, and build successful organizations that last.   
About the Author
---
Gary Vaynerchuk is one of the world's leading marketing experts, a New York Times bestselling author, and the chairman of VaynerX, a modern day communications company and the active CEO of VaynerMedia, a contemporary global creative and media agency built to drive business outcomes for their partners. He is a highly popular public speaker, and a prolific investor with investments in companies such as Facebook, Twitter, Tumblr, Venmo, Coinbase, Slack, and Uber. Gary is a board/advisory member of Bojangles' Restaurants, MikMak, Pencils of Promise, and is a longtime Well Member of Charity:Water. He's also an avid sports card investor and collector. He lives in New York City.

Praise For…
---
"Vaynerchuk draws on his experiences, successes, and mistakes to offer uplifting advice about leadership and happiness. . . . A genial business guru redefines success."
— Kirkus Reviews

"A dishy memoir and a kind of 'best of Gary' anecdotes and reflections."
— Forbes
Shopping Tips & Updates
COVID-19 UPDATE (July 31, 2021)
1. We are following CDC guidelines for in-person shopping. Our staff is fully vaccinated, but with Delta surging and Alabama's vaccination rate the national caboose, masks are required to enter. We are still offering curbside pickup if you prefer. Pay ahead online, select "in-store pickup," and when you receive notification that your order is ready, simply call from the 7th Street entrance: (205) 632-5331.
2. Please anticipate 3-5 business days for in-store pickup. We will let you know of any further delays, but if you need an item right away please call to see if it is in stock: (205) 632-5331.
3. Have questions about what it's like to get the vaccine? We're happy to discuss our experiences!
~~~~~~~~~~~~~~~~~~~~~~~~~~~~~~~~~~~~~~~~~~~~~
Items appearing here do not necessarily indicate what is currently in stock at Ernest & Hadley Books. The product information displayed are records of books that have been, are, or will be available.
Please call ahead if you would like to see if it is currently in-stock: (205) 632-5331, OR use this as your guide: click here
Please visit our Help/FAQs page for more helpful tips, or Important Terms & Conditions for how to use a gift card and other pertinent details about your order.
Any other questions, just ask! Happy browsing ~ Happy reading!