You are here
Back to top
Cricut Design Space - Advanced Guide: The Update And Detailed Advanced User's Guide Tips And Tricks On How To Design Amazing Cricut Projects (Paperback)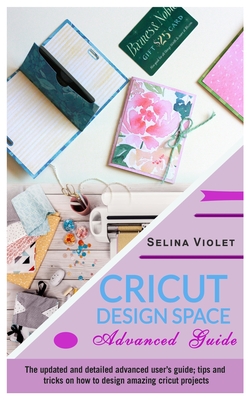 $19.00
Email or call for price
Description
---
Are you using Cricut to design your amazing projects?
Have you mastered the basics and want to move to the next level?
This book will take you further than you've gone before
Cricut is the exciting and innovative machine that is perfect for hobbyists and creatives who want to design and make their own products at home. It is flexible, portable and above all it can work with a wide variety of fabrics and materials, meaning that you can make almost anything.
Many know the basics of working with a Cricut but there is so much more and with Cricut Design Space - Advanced Guide: The Updated and Detailed Advanced User's Guide; Tips and Tricks on How to Design Amazing Cricut Projects, you can move to the next level and:
Understand the software secrets in the design space
Learn how to edit images
Discover print and cut Cricut access projects
Make custom cards
Learn card making tips
Make multi-layer vinyls
Designing and creating large wooden signs
How you can use Cricut to turn your passion into a profitable business
From the small to the large, Cricut can help you with almost any project and give you the professional look that you have always wanted from the things you create.
If you have a decent base knowledge of Cricut and what it can do for you, but want to expand on it and take your projects to the next level, Cricut Design Space - Advanced Guide is the book that will help you to realize your dreams.
Get a copy now and discover how your next project could be even better
Shopping Tips & Updates
COVID-19 UPDATE (July 31, 2021)
1. We are following CDC guidelines for in-person shopping. Our staff is fully vaccinated, but with Delta surging and Alabama's vaccination rate the national caboose, masks are required to enter. We are still offering curbside pickup if you prefer. Pay ahead online, select "in-store pickup," and when you receive notification that your order is ready, simply call from the 7th Street entrance: (205) 632-5331.
2. Please anticipate 3-5 business days for in-store pickup. We will let you know of any further delays, but if you need an item right away please call to see if it is in stock: (205) 632-5331.
3. Have questions about what it's like to get the vaccine? We're happy to discuss our experiences!
~~~~~~~~~~~~~~~~~~~~~~~~~~~~~~~~~~~~~~~~~~~~~
Items appearing here do not necessarily indicate what is currently in stock at Ernest & Hadley Books. The product information displayed are records of books that have been, are, or will be available.
Please call ahead if you would like to see if it is currently in-stock: (205) 632-5331, OR use this as your guide: click here
Please visit our Help/FAQs page for more helpful tips, or Important Terms & Conditions for how to use a gift card and other pertinent details about your order.
Any other questions, just ask! Happy browsing ~ Happy reading!